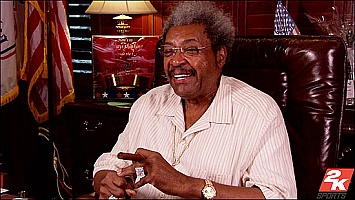 Sports Illustrated has a short preview of Don King: Prizefighter that mentions a few new pieces of info about the game. You can read the full preview here and I've pulled out a few statements below.
The main theme of Prizefighter's single-player career mode plays off of King's statement: It's about the choice you have to make between glory and money. Would you rather hit the gym to train for your next fight or work on enhancing your notoriety? The former can help get you a win, but the latter will line your pockets with fatter purses.

As you progress through the game, your story will be told in a SportsCentury-style documentary, with real video clips from King (see picture, below) and other famous names from the fight scene.

Aside from the standard create-a-fighter option, Prizefighter offers up to 30 active boxers and 10 classic pugilists, including Larry Holmes, Ken Norton and the Cinderella Man, James Braddock.

HBO announcers Emmanuel Stewart and Jim Lampley provide the play-by-play.

The online play offers the unique twist of allowing players to set up their own gym where they can fight with up to eight of their own created boxers or any of the legendary fighters from the game.
All of the information above is pretty interesting. The documentary style story telling sounds like it could be really unique and that would help to separate it from Fight Night. I still hesitate when it comes to having money in games because there needs to be real value to it to make it matter. The amount of boxers appears to be sufficient and the online play could be a real selling point if done well. Overall it sounds like Prizefighter has a good concept and now it will just be a matter of seeing if it can live up to it.