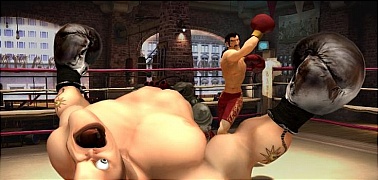 EA Sports has announced a new game coming for the PS3, 360 and Wii called Facebreaker. Where the Fight Night series is the company's sim representation of the sport, Facebreaker will be the arcade entry with a cartooney look all its own. Both Fight Night Round 4 and Facebreaker are being developed out of EA Canada with Facebreaker being the first of the two to be released.
The game features fictional boxers plus the ability to use "Game Face" which was first implemented with Tiger Woods 08. Touted is the "real-time facial deformation".
Laugh out loud as you pummel your opponent with a barrage of blows to the face and watch in satisfaction as your progress is illustrated by real-time facial deformation. With haymakers, face shots and body blows, wait for the right moment to drop a super punch to make your presence known. Taunt your adversaries and flaunt your talent, by tying one hand behind your back to add ultimate humiliation to your bout. In FaceBreaker, it just feels good to rearrange your opponent's face.
No word on when to expect Facebreaker to release other than it will be out sometime this year. More information and screenshots will be in the March edition of EGM so it won't be long until more is known. The official website for the game is set to go live on Friday February 1st.