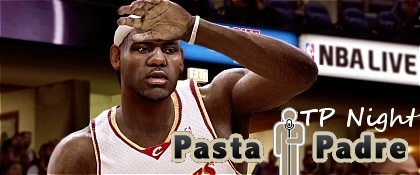 There was only one game on night four of NBA Live 08 OTP which had the Chicago Bulls @ LA Clippers. It turned out to be one of the cleanest played games thus far even though one side was in control the entire way throughout. Where some of the earlier games had a frantic pace and predominantly centered on quick scores and easy baskets, this one had a more controlled pace and came down to half court offense and rebounding.
The rebounding discrepancy tells the story of the game. Chris Kaman alone matched the entire Bulls team with 20 rebounds. The Clippers prevented the Bulls from getting the number of second chance opportunities that they had.
Overall it was just a good team effort by the Clippers. Continue on to read the full stats and watch the video of the game. Thanks to Im P Dub from over at NLSC for recording and uploading this one.
Bulls 87 @ Clippers 110
Bulls
Ben Wallace 9 pts, 6 rbs, 1 ast, 4-4 fg
Tyrus Thomas (F E A R IVI E) 12 pts, 3 rbs 6-7 fg
Luol Deng 4 pts, 4 rbs, 3 stls, 1 blk, 2-4 fg, 0-2 3pt
Ben Gordon (Da Birthday Boy) 16 pts, 3 rbs, 7 ast, 1 blk, 7-16 fg, 0-3 3pt
Kirk Hinrich (ElmiraExpress) 20 pts, 17 ast, 1 stl, 7-14 fg, 4-8 3pt
Joe Smith (F E A R IVI E) 4 pts, 1 rb, 2-2 fg
Joakim Noah (x F E A R iVi E) 22 pts, 3 rbs, 3 ast, 2 blk, 11-17 fg
Clippers
Chris Kaman (pastapadre) 24 pts, 20 rbs, 2 ast, 1 blk, 10-14 fg
Tim Thomas (Im P Dub) 32 pts, 7 rbs, 1 ast, 1 stl, 12-20 fg, 6-10 3pt
Corey Maggette (moeandamigo) 21 prts, 4 rbs, 4 ast, 9-16 fg
Cuttino Mobley (Im P Dub) 18 pts, 3 rbs, 4 ast, 3 stl, 8-13 fg, 2-6 3pt
Sam Cassell (NJNetsfanforlif) 15 pts, 2 rbs, 14 ast, 3 stl, 5-17 fg, 0-10 3pt