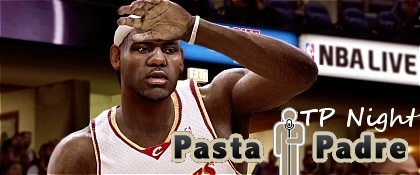 It was an interesting night of OTP with the new roster update plus some different developments. That led into a really entertaining dunk contest at All-Star Saturday Night which I was glad that I didn't pass up watching.
The first real problem participant was involved and it took two attempts at games to figure out who it was. He was calling timeout after timeout prompting technical fouls and was intentionally fouling on defense. That is why I've suggested there needs to be a way to boot someone from a game but this also showed that someone who is calling timeouts or intentionally fouling over and over should be booted automatically.
Game wise the Suns-Lakers matchup was relatively competitive but Andrew Bynum was an unstoppable force. At points the Suns felt helpless on defense even when the Lakers missed they were often there to grab the offensive board. The All-Star game matchup was a complete fiasco as the East routed the West in the most lopsided game in OTP history. 24 turnovers for the West in the game and those turnovers early dug a hole that was just too much to ever recover from.
Continue on to view the stats of the games and watch highlights from the Suns-Lakers video (trust me no one wants to watch the ASG one). Thanks to Im P Dub for putting this video together.
I lost track of who was controlling who. So if you leave a note in the comments I'll add your name in.
Suns 105 – Lakers 120
Suns
Shaquille O'Neal 36 pts, 6 rbs, 2 ast, 1 stl, 3 blks, 17-24 fg
Amare Stoudamire (pastapadre) 16 pts, 5 rbs, 8 ast, 1 blk, 8-19 fg
Grant Hill 23 pts, 3 rbs, 2 ast, 8-16 fg
Steve Nash (hawkfan23114) 15 pts, 6 rbs, 2 ast, 6-11 fg, 2-6 3pt
Leandro Barbosa 11 pts, 3 rbs, 1 ast, 4-7 fg
Lakers
Andrew Bynum (Dlane941987) 46 pts, 19 rbs, 4 ast, 1 stl, 2 blk, 20-24 fg
Pau Gasol 22 pts, 8 rbs, 6 ast, 3 blk, 9-13 fg
Lamar Odom 11 pts, 7 rbs, 6 ast, 1 stl, 1 blk, 5-7 fg, 1-1 3pt
Kobe Bryant 28 pts, 1 rb, 5 ast, 4 stl, 1 blk, 13-29 fg, 1-4 3pt
Derek Fisher (Elmira Express) 13 pts, 3 rbs, 19 ast, 6-9 fg, 0-1 3pt
OTP_Suns_at_Lakers.wmv
East 119 – West 60
East
Dwight Howard (hawkfan23114) 34 pts, 5 rbs, 4 ast, 4 stl
Kevin Garnett (Dlane941987) 35 pts, 15 rbs,9 ast, 3 stl, 1 blk
Lebron James 26 pts, 5 rbs, 1 ast, 5 stl, 1 blk
Dwyane Wade 18 pts, 2 rbs, 2 ast, 5 stl
Jason Kidd 6 pts, 3 rbs, 7 ast, 2 stl
West
Yao Ming 4 pts, 2 rbs
Tim Duncan 3 pts, 4 rbs, 2 ast, 2 stl
Carmelo Anthony 6 pts, 3 rbs, 1 ast, 1 stl
Kobe Bryant (pastapadre) 14 pts, 1 ast
Allen Iverson 23 pts, 1 rb, 2 ast
Carlos Boozer 4 pts, 4 rbs, 1 stl
Dirk Nowitzki 6 pts, 7 rbs, 1 ast, 1 stl, 1 blk
Brandon Roy (pastapadre) 1 rb, 1 blk
Steve Nash 2 rbs, 1 blk