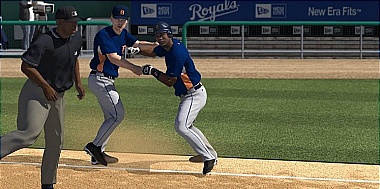 SCEA has released series of seven screenshots showing off an argument apparently spurned by a personality conflict in MLB 08: The Show. The ump has made a call that the player disagrees with and emotions are heated. It doesn't appear to have ended amicably.
Click the thumbnails below to view the images full size. All other screenshots collected for The Show thus far can be found in the gallery.
I noted in my initial demo impressions that you could see some examples in the first video where I wasn't getting the calls on the outside part of the plate. This is an aspect of the game I really like and feel is implemented well. Each umpire has their own unique tendencies and animations. It's up to the individual to determine how the ump is calling the game and to adjust to that.