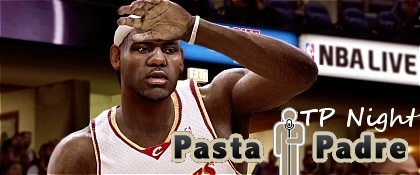 Night six of NBA Live 08 OTP is in the books and it was one of the better all around nights so far. Both games were very competitive and using the lower ranked matchup and international teams seemed to pay off. The first game we had three vs four and the second game was a full five on five.
Following the next roster update we'll do some games with the teams that made acquisitions (Cleveland vs Dallas sounds good) and probably another international game since this one turned out so well. As I mentioned before within the next couple weeks there is the plan for a special OTP night to take place which will include some NBA Live producers. Look for details on that to come soon.
I lost track of who was controlling who again so if you were in on the games leave a comment letting me know who you had and I'll add your name in there. Again thanks to Im P Dub for putting together a highlight video. Continue on to read the short recaps, stats, and view the video.

Bucks 111 @ Bobcats 108
In this game the Bobcats held the lead from the start and into the third quarter but just couldn't put the Bucks away. A couple late missed three point attempts did the Bobcats in. A remarkable 62 point 19 rebound game from Okafor ends up not being enough.
Milwaukee
Andrew Bogut 13 pts, 11 rbs, 2 ast, 1 blk, 5-7 fg
Charlie Villanueva 12 pts, 3 rbs, 2 ast, 5-6 fg
Desmond Mason 7 pts, 1 ast, 2-5 fg
Michael Redd 27 pts, 7 rbs, 3 ast, 5 stl, 13-28 fg, 1-7 3pt
Mo Williams 31 pts, 1 rb, 12 ast, 12-16 fg, 2-3 3pt
Bobby Simmons 12 pts, 1 rb, 5-10 fg, 2-4 3pt
Charlotte
Nazr Mohammed 6 pts, 12 rbs, 2 ast, 1 blk, 3-6 fg
Emeka Okafor (Rangerskm) 62 pts, 19 rbs, 2 ast, 28-36 fg
Gerald Wallace (pastapadre) 19 pts, 3 rbs, 2 ast, 7-16 fg, 2-6 3pt
Jason Richardson (cpu/pastapadre) 9 pts, 3 rbs, 1 ast, 4-10 fg, 0-2 3pt
Raymond Felton (Elmira Express) 10 pts, 22 ast, 5-9 fg, 0-2 3pt
Matt Carroll 2 pts, 1-3 fg, 0-1 3pt
France 116 @ Spain 122 OT
Spain held the lead for the majority of the game but France stayed on their heels and played clutch in the fourth outscoring them by eight to force the game into OT. From there it was back and forth but Spain was able to string together a couple scores late that France couldn't answer. Really balanced effort by both teams as well as spread through individuals. Turiaf had a triple-double and Navarro nearly had one. This was one of if not the best game of OTP that has been played. It was a lot of fun and the score doesn't really represent how it was slightly slower paced and lower FG% due to the overtime.
France
Boris Diaw (o like Butter 0) 26 pts, 10 rbs, 8 ast, 12-16 fg
Florent Pietrus (pastapadre) 9 pts, 3 rbs, 1 ast, 1 stl, 4-13 fg, 1-6 3pt
Mickael Pietrus (Rico Suave 1) 35 pts, 6 rbs, 4 ast, 1 stl, 2 blk, 16-25 fg, 0-3 3pt
Tony Parker (Elmira Express) 16 pts, 17 ast, 2 stl, 8-25 fg, 0-1 3pt
Ronnie Turiaf (Rangerskm) 30 pts, 20 rbs, 10 ast, 3 stl, 3 blk, 14-19 fg
Spain
Pau Gasol (JaoSming/Im P Dub) 20 pts, 13 rbs, 4 ast, 3 stl, 2 blk, 8-15 fg, 0-1 3pt
Juan Carlos Navarro (NJNetsfanforlif) 39 pts, 9 rbs, 8 ast, 1 stl, 1 blk, 14-31 fg, 6-14 3pt
Jose Manuel Calderon (da birthday boy/JS/PDub) 11 pts, 2 rbs, 19 ast, 1 stl, 1 blk, 5-14 fg, 1-2 3pt
Alex Mumbru (LD4) 34 pts, 2 rbs, 8 ast, 1 stl, 1 blk, 16-29 fg
Marc Gasol (JaoSming/Im P Dub) 18 pts, 11 rbs, 3 ast, 2 stl, 2 blk, 9-12 fg
France_at_Spain_OTP_6.wmv