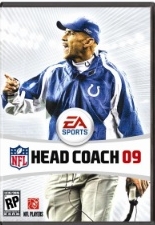 Even though it had been known to be coming, today EA Sports officially announced NFL Head Coach 09. The game will be available for the 360 and PS3 and features Indianapolis Colts' Tony Dungy on the cover.
Along with the announcement should come the launching of the official website later today and possibly the first screenshots which I'll have here as soon as they're available.
"In NFL Head Coach 09, the gamer has complete control of their franchise's destiny," says NFL Head Coach 09 Executive Producer Jeremy Strauser. "From draft day to game day, the gamers' decisions impact their team's success and make or break a team's road to the Super Bowl."

NFL Head Coach 09 provides a complete NFL experience, offering a variety of different ways to control an NFL franchise, on and off the field, in-season and off-season. With strategic game planning features, NFL Head Coach 09 places gamers in the coach's seat by allowing gamers to comprehensively scout the opponent, build playbooks, and develop a team that will adapt to the philosophy and system of an NFL franchise.

The sideline is your playing field in NFL Head Coach 09 – gamers can make adjustments to plays and game strategies in an instant. The outcome of every game depends on game-time decisions made on the sideline. Success depends on proper preparation and knowledge of the opposing teams' strategies, as well as expert and timely play calling.
Originally the game appeared on track to launch the week prior to the NFL Draft however that doesn't seem to be the case considering there is only two months until then. They haven't announced an official date yet so we're probably looking at later this summer and it'll be interesting to see how it fits in with releases such as NCAA Football 09 and Madden 09 in that same time frame.
Update: IGN has just posted a first look preview of the game.