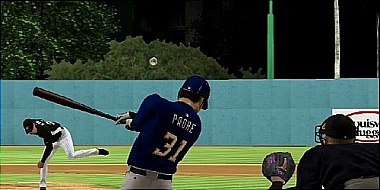 So to kick off the Road to the Show I'll have a brief recap of the beginnings of Padre's career. The create-a-player is pretty deep but I didn't spend too much time with it as I just wanted to get him looking somewhat like myself. Thanks to the poll yesterday Padre's position will be shortstop with a secondary position of second base.
After flipping through the teams and competition at shortstop Padre decided to join the Washington Nationals organization. Spring Training starts up with him getting an opportunity to play and is slotted hitting eighth. It has been rough going early on as Padre has struggled in all facets of the game. Full concentration is required otherwise events such as getting picked off at first or forgetting to cover second base on steals and for double play attempts occur.
After the first five ST games Padre is batting .190 with 2 RBIs. He took his first opportunity to spend training points but given his struggles he could only work on power and contact slightly but hopefully that'll help. The next update will probably come tomorrow and cover the rest of Spring Training and the start of the regular season.
Continue on to watch the videos. The first one has just a few highlights but the rest are the full play throughs which last around seven minutes each.