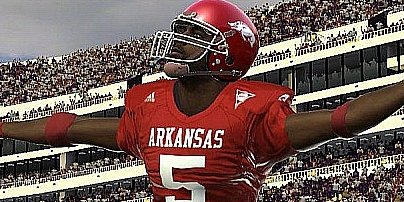 Even in pre-alpha stage the movement is really impressive. You can definitely see how free each animation is and how it can be broken into another at any time. The quick jukes look fantastic and could be really effective.
Over the past few years one of my biggest complaints with the football games has been the sense that they almost feel scripted. You can pretty much know what is possible to happen on a given play and there weren't going to be any surprises. Of course the majority of big plays just have come from passes over the top of the defense on fly patterns. There has been no getting into the open field and really making an exciting play happen. So the prospective of the "anything can happen" type of gameplay is definitely exiting to me.
Continue on to view the video which discusses Darren McFadden as cover athlete and shows some footage from very early in the game's development. The NCAA discussion takes place during the first three minutes of the video.