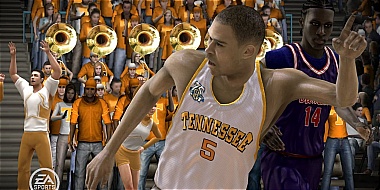 Over the last couple months I speculated that the Bracket Pack would return for March Madness 08 and today came official word that is has arrived. It appears to be exclusive to the Xbox 360 at a price of 400 MS points and is available now in the Marketplace.
Not only does it include the 65 team NCAA Tournament bracket but also updated team ratings, 25 new alternate/third jerseys from tournament teams, and the authentic Alamodome Final Four court.
Curiously Oregon's McArthur Arena, which was voted to be the free download offering, is listed as being included in the pack. That would make it decidedly not free.