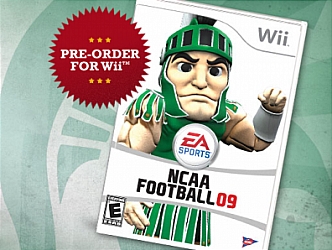 EA Sports today announced that Michigan State mascot Sparty has won the voting for the cover of the Wii version of NCAA Football 09. He joins Arkansas' Darren McFadden and three future announced cover athletes that will represent the different platform versions of the game this year.
After looking at the support that Sparty had received from facebook groups, forums, and media coverage I made the prediction that he would jump ahead of Washington State's Butch T. Cougar to take the cover. It seems that the campaign behind him truly was the strongest and most organized and it paid off in the end.
Over 700,000 votes were cast resulting in a very close race. The final top 10 went as follows: Michigan State, Central Florida, Washington State, Auburn, LSU, Nebraska, Kansas, Iowa State, Alabama, Penn State.
*Please note that the cover art pictured above is not final. This was put together quickly just for promotional purposes to go along with the announcement. The final cover art should be released soon.