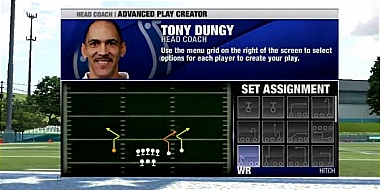 EA Sports has released the first official trailer for NFL Head Coach 09. Some of the aspects of the game shown briefly include the play creator, free agent negotiation, coaching decisions, and actual on the field action.
The game looks really good at this point and it definitely sounds like they're on top of the features and options that are necessary to make it work. Graphically it is such a drastic improvement over the previous Head Coach in every way including the on field action, sidelines, and menus. The screenshots have looked great but now seeing actual video confirms that and it certainly appears to at least rival (if not surpass) Madden graphically.
There will be several more videos for Head Coach 09 coming within the next few weeks. Continue on to view the first trailer or check it out in HD at the official Head Coach website in the media section.