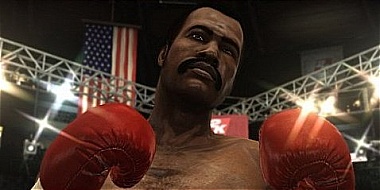 Back in January it looked like Don King Presents: Prizefighter was headed towards an early-mid spring release. Not long after discussing that possibility Gamestop moved the date back giving it a May placeholder essentially signaling that they anticipated a May release but were not given a concrete date.
Generally 2K Sports promotes one title at a time with the games being spaced out at least three weeks or month apart. Right now the focus is on the bizarre Nintendo DS game MLB 2K8 Fantasy All-Stars which is set to come out on April 8th. Soon after that the push should shift to the next game in line. That could be Prizefighter, but as of now the best bet is that Top Spin 3 with its May 20th release date is the next to come.
Top Spin 3 has already received more of a push from PR which is a major indication that Prizefighter may have fallen into June or even beyond. Top Spin has had its player list released, cover art revealed, and a handful of screenshots made available. Prizefighter has been limited to two screenshots, and those likely wouldn't have even been sent out if it wasn't in response to leaked early screenshots that were loose at the time. Otherwise there has been some some vague info from magazines, but there is no fighter list, final cover art, or additional screenshots. It just doesn't have the feel of the "next game on the way" that Top Spin seems to have.
With so much attention on Take Two's own Grand Theft Auto IV on April 29th there is really no space prior to Top Spin where Prizefighter could be marketed. So the next real open period to place it would come in June.
There has been some thought that the impending possibility of EA buying Take Two could be a factor in the relative lack of promotion for Prizefighter thus far. However considering the M.O. of 2K it doesn't appear to be the case. My thought is that Prizefighter is heading towards a June release date. That could all change though come April 10th with the Take Two shareholder meeting and the deadline from EA being the next day.
Update: After writing this I spotted that Gamestop and Gamefly have just now updated their release dates to June 10th for the 360 version and into September for the Wii and DS. These are not official dates (yet at least) but just another sign that the game isn't just a matter of being a little over a month away.