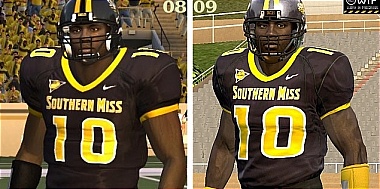 With the release of two new screenshots from NCAA Football 09 came a description of how some of the character models have been improved. Some people have noticed differences while others have stated that they look the same.
There was a huge upgrade from 07 to 08 and because of that this year the adjustments are going to be a little more subtle. The exception might be the lineman who they've apparently worked on a great deal.
So using EA Sports World I went into 08 and took some screenshots of the same players in similar poses. These comparisons should accent some of the changes that have been made. Click the thumbnails below to view the images.