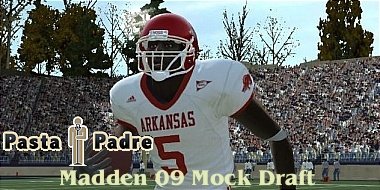 Three teams that began last season thought to be playoff contenders come up now in the Madden Mock Draft. The Broncos, Panthers, and Bears will look to take players that could patch weaknesses and propel them back into contention. After three straight defensive players were taken previously these teams look for offensive help.
#12 Denver Broncos – Chris Williams – OT – Vanderbilt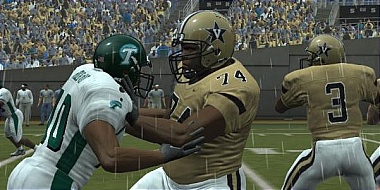 The Broncos need help on the offensive line and at wide receiver. The better pick is to go with the offensive tackle in Williams. An effective WR could be had later in the draft yet lineman have a bigger dropoff. Another thought would be to go with a running back but the Broncos have always depended on their offensive line to pave the way and a fast back can be found in later rounds.
#13 Carolina Panthers – Brian Brohm – QB – Louisville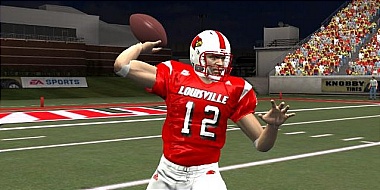 The Panthers improved at wide receiver in the offseason now they need someone who can throw it to them. Jake Delhomme is about as mediocre a Madden QB as there is and no one else on the roster that can offer more than that. Other consideration went to offensive tackle. Getting the QB now and having him grow into the position was the better move. Brohm could immediately be more effective than Delhomme or Matt Moore even if his overall rating is in the same range or slightly below.
#14 Chicago Bears – Rashard Mendenhall – RB – Illinois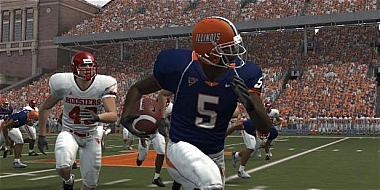 It's tough to swallow that Chicago would need to spend another high first rounder on a running back but Cedric Benson has shown he isn't starter worthy. It comes down to choosing between Mendenhall and Jonathan Stewart. Both will be effective in the game immediately and can be utilized in multiple ways. Compare to how good Marshawn Lynch was as he started off with an 83 rating. With Devin Hester the Bears have no need for a returner so they stay in-state and take Mendenhall.
Do you agree with selections 12-14? Look for the next update coming in a few days! You can check out all the picks in the mock draft by visiting the tag page.