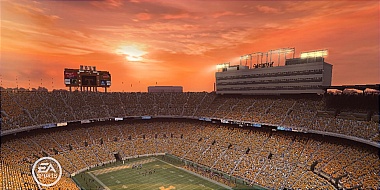 EA Sports has released new screenshots from NCAA Football 09 showing off stadium improvements. Specifically displayed is the field textures, stadium lighting, and environments.
The improvement is immediately apparent and quite drastic. These screens have NCAA 08 on top with NCAA 09 on bottom. Continue on to view the images and a brief description of the changes that have been made.
Field Textures: "One thing we're really proud of this year is our field textures. The level of detail has improved quite a bit. You'll actually be able to see the difference between grass and synthetic turf, which is something that's totally new. We also have field degradation, so the field will see realistic wear and tear during the course of a game.
Stadium Lighting: "In years past our stadium lighting has been really dark for the dusk games. This year we have separate lighting controls for the environment and the player, so when the player goes into a shadow, you'll still see the same level of detail you'd see in the full sun."
Fans: "Home stadiums have never felt more alive. In the past our crowd colors used to be more mixed with neutral colors, but this year we're showing off the home crowd's colors in a big way. Inside the stadiums it's very clear which fans are supporting which team. There are pockets in the stadiums with sections full of visiting team fans."
Other: "There are a lot of other detail related things we've done to make the stadiums feel more authentic. There is fog that adds more depth to the fields in the larger stadiums, mow lines during snow games, and more dramatic skies that help to improve the environments."