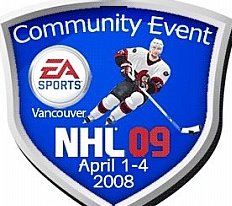 EA Sports recently had a community day for NHL 09. The timing is especially encouraging considering the game won't release until September. By bringing in the community for feedback and suggestions at such an early point in development it allows for the team to potentially act on what they hear for 09.
The first time EA really did this was last year with NBA Live 08. That one was held over three months ahead of release and there were positive results in the final product that could possibly be attributed to the event. Here NHL 09 is about five months away from release so there is even more opportunity that the game could be affected thanks to the direct thoughts of the community. Understandably game details out of the event are under embargo but sites were still free to discuss their thoughts on it in general such as over at 5WG.
Here is short recap video of the event from Inside Xbox which can be found on the 360 dashboard. You can watch the video by continuing on.