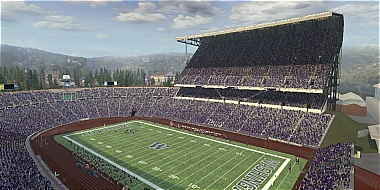 Gametrailers has posted the first trailer for NCAA Football 09. Pretty much everything that has been discussed about the game is on display in the video.
You can really see the vast improvements that have been made (and previously seen in the screenshots) to the player models, lighting, and environments. The footage showing the wide open gameplay looked really fluid and natural. Noticed the home field advantage made the receiver routes unsteady which is interesting. Hopefully we'll find out more on how home field impacts the games. Also displayed is the online dynasty, custom stadium sounds, roster sharing, and mascot games.
The whole trailer basically recaps everything we've heard about NCAA Football 09 and seen in the screenshots that have been released thus far. Continue on to check it out.