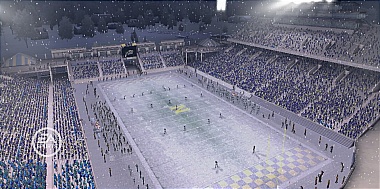 Later this week I will be in NYC for an event surrounding the unveiling of the NCAA Football 09 cover athlete. Also attending is Chris Jacobs from NCAA Strategies and David Wales from PSU. While there we will have an extensive amount of hands-on time with the game which should occur on Wednesday and Thursday. I'll be coming back on Friday evening and then holding a live blog during the NFL Draft on Saturday.
We are expecting the latest build and we have been given free reign to discuss anything about it. Originally I had imagined a restricted build similar to what we used to get at E3 but apparently it will be the full thing. That means we'll be able to dig into aspects such as online dynasty menus, campus legend changes, ect.
Keep in mind that this will still be an early build and I wouldn't expect everything to be fully implemented and certainly the gameplay won't be tweaked and balanced the way that it will by release time. While there should be a sufficient amount of time with the game it will still be somewhat limiting (please don't expect extensive reports on Dynasty mode for example). The good thing about the timing is that our feedback will be directly considered and potentially acted upon. So given the circumstances look for the reports to be more informational than opinionated with full details of the feedback that has been given.
If you have any questions or areas you'd like to hear impressions or information on feel free to leave them in the comments. I can't promise that I'll get to all of them but I'll definitely take them into consideration.
NCAA screenshot update: EA is releasing a new alternate uniform screen every weekday. The first one is Kansas which can now be seen here.