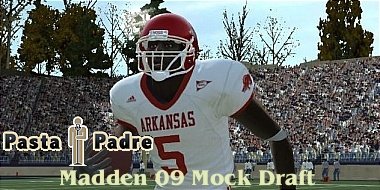 These final five picks concludes the Madden Mock Draft with only a recap of the entire mock still to come. With the exception of the 49ers all of these teams will go into the game next year as powerhouses. Despite that they can still capitalize on their picks and improve their status in Madden through them.
#27 San Diego Chargers – Kenny Phillips – S – Miami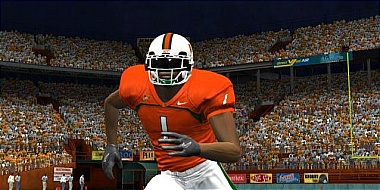 The Chargers are a team that is stacked with talent at most positions and may be the most popular team to use for someone looking to win a big game. But there are a couple areas that could be upgraded such as at safety which is why Kenny Phillips fits here. He will be the top rated rookie at the position likely with an 82 if last year is any indication of what to expect. Three safeties were taken in the lower half of round one and all were rated an 82. Other positions that could be looked at here are running back to replace the loss of Michael Turner and a top tier offensive tackle. The RB could be grabbed in later rounds especially considering they still have Darren Sproles and all the impact OTs have been taken by this point. Phillips ends up being a great value at this pick.
#28 Dallas Cowboys – Chris Johnson – RB – East Carolina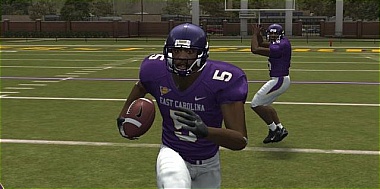 With the Cowboys addressing their need at corner with their earlier pick now they look for a backup running back to replace Julius Jones. The consideration basically comes down to Felix Jones vs Chris Johnson. There were a couple points earlier in the draft where Johnson almost pulled an upset. He gets the nod over Jones here due to his blazing speed. He'll be the fastest rookie out of the draft and will have a 97 or 98 speed rating. Combined with the power running style of Marion Barber that would make for a terrific Madden backfield combo.
#29 San Francisco 49ers – Dennis Dixon – QB – Oregon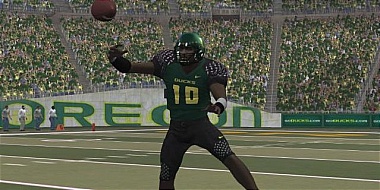 Of course this won't be the direction the actual 49ers go but you can't get much worse than what they have at QB for Madden. Dennis Dixon would come in and provide the team with the opportunity to make some big plays whether they be through the air or with his legs. This choice likely represents the biggest surprise in the Madden Mock Draft. However given the propensity for mobile QBs to have success in the game he would be a good addition and would be able to outplay his initial overall rating.
#30 Green Bay Packers – Antoine Cason – CB – Arizona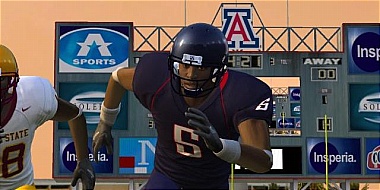 The Packers have little depth behind Charles Woodson and Al Harris so a corner to play in the nickel or dime would be a big benefit. Choosing between Antoine Cason and Tracy Porter was difficult. Porter is faster but Cason should have a better overall rating. For what they would offer immediately Cason had the edge, if they needed a starter than Porter may have been the better choice. Other positions that could've been taken were at tight end and safety.
#31 New England Patriots – Robert Elswit – Cinematographer
In lieu of their forfeited pick the Patriots look elsewhere and will surely not pass on the man who won for Best Cinematography at the Academy Awards. Not only did he win for There Will Be Blood but another one of his movies, Michael Clayton, was nominated for Best Picture. Clearly he is a natural fit.
#32 New York Giants – Erin Henderson – LB – Maryland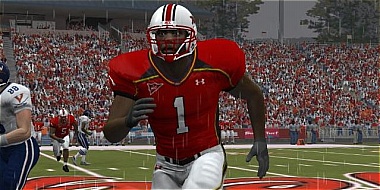 The Giants could use help at safety and linebacker. The best choice here is to go with Erin Henderson who had big production in college and was rated in the 90s in NCAA Football over Cliff Avril who was only rated in the low 80s. Henderson would plug one of the holes left by departing players this off-season.
Do you agree with the final selections in the Madden Mock Draft? Look for a full recap to come in a few days! You can check out all the picks in the mock draft by visiting the tag page.