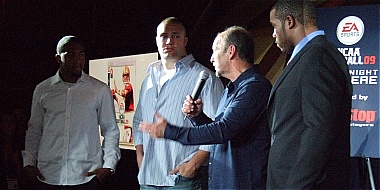 Some of you may have noticed that my initial hands-on impressions of NCAA Football 09 are no longer up. Apparently there was some sort of miscommunication and we were not informed of an embargo which holds until May 2nd. I'll have my full gameplay and feature impressions up then.
So I thought I'd throw up a short recap of the PS3 NCAA cover reveal event with some pictures. Jake Long, Matt Ryan, Darren McFadden, DeSean Jackson, Chris Long, and Owen Schmitt were in attendance along with the game on display. I was as able to speak with some producers including NCAA's Ben Haumiller (the guy behind online dynasty) and Madden's Phil Frazier along with getting to meet Peter Moore.
The highlight of the night was having the opportunity to play DeSean Jackson in a game of NCAA 09. I had overheard at the event that he was the cover athlete for the PS2 version of the game and he was excited about that. I asked him where he thought he might end up and he mentioned the Cowboys and Bucs. He came across as a really good guy and it made the game a lot of fun. It got quite competitive with a little trash talking involved as well. I took Washington and he went with 6th ranked LSU (by the way the top rated team is Georgia). After jumping out to a 7-0 lead he would go on to score three touchdowns and go up 21-7 late in the third quarter. However I came back and scored the game tying touchdown with about 2:30 left. Unfortunately this is when the game froze on us. It likely was an epic ending we missed out on as the Pastapadre-DeSean Jackson rivalry ends in a draw.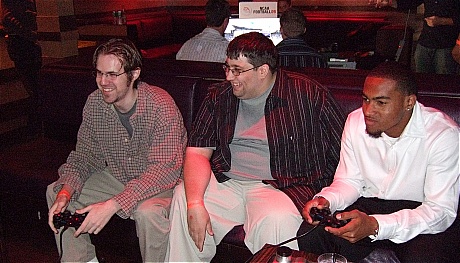 Continue on to view some more pictures.