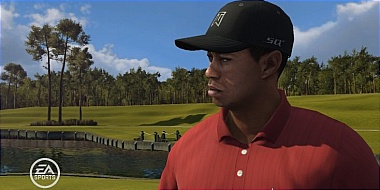 This morning's press release announcing Tiger Woods PGA Tour 09 included some details of what to expect this year. Tiger Woods' personal coach Hank Haney will assist gamers and contribute to dynamic personalized gameplay along with enhancements to Gamernet and online play. The game will be releasing on Tuesday August 26th.
Looking to drive the ball long and straight? Trying to nail the pin with the approach shot? An all-new addition to this year's game, Haney will assist gamers as they hit the links and try to advance their career to win the FedExCup. In Tiger Woods PGA TOUR 09, a player's skill level is dynamic, constantly adjusting throughout the round just as it would during a real afternoon out on the links. Following each round, Haney will deliver customized feedback on a player's performance. This feedback system allows all gamers, rookies or PGA TOUR pros, to compete and enjoy the game at any level.
This seems to be a trend in the 09 titles. From the QB challenge after interceptions in NCAA, to Madden 09's backtrack feature, to this EA is attempting to assist players in learning how to play the games and improve their skills the right way.
EA SPORTS GamerNet is a ground-breaking online innovation that features a refined, easy-to-use interface in Tiger Woods PGA TOUR 09. EA SPORTS GamerNet challenges, such as long drive, approach shots and putting will be delivered instantly throughout all game modes and players will have the ability to post their challenges from the fairways. EA SPORTS GamerNet also features an all-new daily leaderboard and challenges customized to fit an individual's playing style.
I don't remember specifically the issues people had with Gamernet last year, outside of the frustration of knowing most of the shots that were up could not be replicated.
Online play has also been enhanced with Simultaneous Play. This all-new online engine gives up to four players the ability to play each hole at the same time, allowing players to get in a rhythm, swing when they are ready and make one round of golf even faster and more competitive than ever before possible.
This is certainly a positive change. No one wants to sit around doing nothing for half the time. Keeping the pace and action up will make online games much more enjoyable.