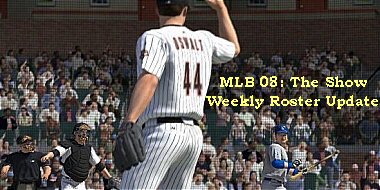 This week's (5/5) roster update for MLB 08: The Show is now available and includes 165 player movements. The highlights of the update are below. For those without online access for their PS3 you can download the roster file here.
SP Yovani Gallardo moved from Brewers Starting to Brewers Minors.
CF Mike Cameron moved from Brewers Minors to Brewers Position.
CF Tony Gwynn Jr moved from Brewers Position to Brewers Bench.
SP Sidney Ponson moved from No Team to Rangers Starting.
SP Esteban Loaiza moved from Dodgers Relief to Dodgers Starting.
RP Hong Chih Kuo moved from Dodgers Starting to Dodgers Relief.
C Jose Molina moved from Yankees Bench to Yankees Position.
C Jorge Posada moved from Yankees Position to Yankees Minors.
RP Heath Phillips moved from Yankees Minors to Free Agent.
CF Shane Victorino moved from Phillies Minors to Phillies Position.
SS Oscar Robles moved from Padres Minors to Phillies Minors.
DH Jeff Clement moved from Mariners Minors to Mariners Position.
2B Jose Vidro moved from Mariners Position to Mariners Bench.
CP Chad Cordero moved from Nationals Closer to Nationals Minors.
C Paul LoDuca moved from Nationals Minors to Nationals Position.
SP Phil Hughes moved from Yankees Starting to Yankees Minors.
3B Ty Wigginton moved from Astros Minors to Astros Position.
3B Geoff Blum moved from Astros Position to Astros Bench.