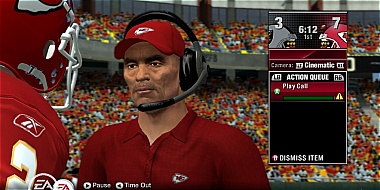 A new producer blog on the NFL Head Coach 09 website has provided a ton of new information in relation to playbooks and team styles. You can read it in full here.
We stripped each playbook down to really focus on what is core to it's parent NFL team. Our intent from the start was to make the style of each coach and team evident in the plays they call. We wanted to highlight things like the Tony Dungy Cover 2 defense, which is not only run by the Colts and Bucs, but is also being used all over the league. We have the New England Patriots offense lining up in Shotgun 5 wide formation about 60-70% of the time just like they did in 2007.
The blog not only details the work they put into getting the teams and coaches to run their real life schemes and how you can utilize them through who you hire, but also goes into "learning" which is a new player rating, adaptive play calling, and details some of the team specific ideals that will be represented.
From the start they have made it clear that players fitting into particular systems would be an important aspect which is something not seen in previous football games. Now there are the specifics on how you can shape your team and how your opponents will theirs as well. It looks like they have really gone and created a deep system that has a lot of potential.