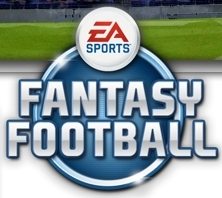 Update: Specific details coming soon. The IGN info isn't completely accurate.
Update #2: Full details on EA Fantasy Football thanks to an interview conducted with the producers can be read here.
While the details on EA Sports Fantasy Football were somewhat vague they sounded great. There would be drafting and live stats via the PS3 and 360 and importing of your teams into Madden 09. The leagues and teams would be free. Apparently they specifically mention those being free because the actual drafting and live stats won't be.
The Fantasy Football download will be available for 1200 Microsoft Points (or $15 on PSN) with live stat tracking available for an additional 400 MP ($5). While drafting your fantasy squad isn't possible online just yet, you and your friends can sit in your living room, pick your squads the same as you've done in the past and then upload them to EA's online fantasy website. There are video clips that will play after picking the top 60 or so players with stat summaries from the previous season to let you know what you can expect in the coming year. You can also load that team into Madden and use it as a standard fantasy draft squad. (Via IGN)
Originally I had imagined the drafting and stats would be accessed through Madden but it looks as though it'll be a standalone program. It's understandable that they would want to charge for this considering the amount of work that has been put into it. I just don't see many people utilizing these services given the prices no matter how cool they may be. The majority doesn't spend money on league services and can live with their current Yahoo (or wherever) experience. Good luck getting a group of friends together that are all willing to pay $15-20 towards this when that money could've been pooled for the league winner.
There are also some important questions that need to be answered around the importing of teams into Madden. Those include how the teams are filled out at positions not utilized in the fantasy league, the customization options, and whether they'll be playable online.