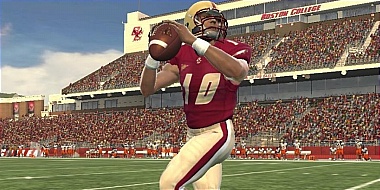 IGN has released a video of a full drive in NCAA Football 09 as Boston College takes the ball down the field on BYU. The video runs for approximately 4 1/2 minutes and can be viewed here (make sure to watch in high-res).
The game looks to have been tightened up some from the build we played a few weeks ago. It is really difficult to judge though until getting hands-on time to actually compare the feel. That really can't be analyzed much through the videos especially in short bursts where the circumstances such as difficulty level are unknown. A couple things to point out is the missed arm tackle on the early run and the diving catch at the end, both of which look really natural.
This is the most substantial gameplay footage released thus far. Be sure to leave your thoughts on the video in the comments.