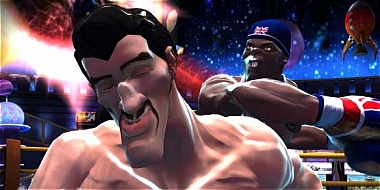 IGN has posted up a first look preview for Facebreaker to go along with some new screenshots which includes a previously never before seen British character. This is by far the most in-depth preview of the game and contains a lot of good information. You can read the full article here.
The gameplay, at its roots, is actually no more complicated than a game of rock-paper-scissors. There are light and heavy attacks that can be launched either high or low and then there's the defense of parrying and dodging incoming strikes. Defensive moves beat light attacks, light attacks beat heavy because they're quicker, and heavy attacks can penetrate someone's defense. The real big shots come when you string together a series of light and heavy attacks to build the four levels of your breaker meter.
To me the most exciting news out of this is the ability to download created fighters as well as the uploading clips to EA Sports World. We already knew about the photo face feature which is sure to be fun to play around with, but the downloading of fighters and uploading of gameplay clips makes my anticipation of the game go up even more.
On top of that there are also a fighter creation tools that implement the Photo GameFace that we saw for the first time in last year's Tiger Woods game. We were shown a model that was designed after Peter Moore and actually fit the part pretty well. You'll also be able to download fighters that other players have made on their systems. You can download and save up to 30 at one time…You can also record clips from your fights and upload them for others to view online.