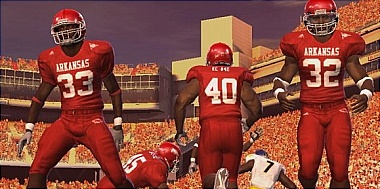 A lot of the thoughts on my second run-through with NCAA Football 09 was covered in the live blog from Thursday but here are more detailed thoughts after finishing up.
Overall the game feels slightly more restricted than when I played it last month. You still get the sense of the wide-open gameplay but big plays happen less often and scores in general were coming out lower. I would attribute that to a decrease in acceleration which seemed a little extreme at the time for fast players. There is more balance between the offense and defense, though if someone is patient on offense they could be extremely efficient and make it difficult to stop them. Ultimately I do believe that the hardcore community will be more pleased with how it is playing now than how it played back then.
One thing that seems to be too easy is throwing to the RBs in the flats effectively. Linebackers just can't keep up with them in man coverage, plus they almost seem to get a speed boost when they catch the ball. This was somewhat frustrating at times as it would result in consistent 7+ yard gains and was tough to prevent.
Lets look at some issues I pointed out last month and see if they have improved. I'll have a more in-depth comparison to the event builds and how our feedback influenced (or didn't) the final product down the line.
Balance as an offense can really pay off. At times though it felt like you were picking your poison when playing defense. Stopping the opposition on a consistent basis just didn't happen.
This continued to be the case at times. There aren't as many punts as you would expect since it is difficult to stop the opposition. The QBs can be very efficient, even though inaccurate passes seemed to be more apparent now. Short passes, especially against man coverage, are relatively easy to complete.
When it comes to the offensive-defensive balance I'd say the leaning is clearly towards the offense. However in most of the games that were played the scores ended up realistic. It brought about more excitement due to the big plays. Scores will likely depend heavily on the styles of the people playing. With longer quarters (7+ minutes) on All-American the scores would probably be unrealistically high.
Scores were down on All-American. A couple examples were 27-3 and 24-14. A month ago there would've been no way in a head-to-head game that a team would be held to 3 points. Big plays can still happen, but weren't quite as often.
Completion percentage seemed to be on the high side. There were not all that many incomplete passes. It was relatively easy to run an efficient offense and move the chains on a consistent basis.
There certainly seemed to be more inaccurate passes but the completion percentages are still high. Patience tends to result in long, successful drives.
There were a high % of interceptions returned for touchdowns. This seemed to be due to the speed/acceleration and taking bad angles that are impossible to recover from. Off the top of my head I'd say on average 1-2 every game. This got to be a little frustrating that they were occurring so often and there was little recourse to preventing them being taken the distance.
Big difference here. Not only did I see less interceptions, but only a handful returned for TD and all seemed legit. I would look to better recovery by players on the team that got picked off and less extreme acceleration.
We didn't really see the CPU throw deep which is a concern when considering this has been an issue for a while.
I had only a limited amount of time against the CPU but didn't get any deep passes thrown on me.
Interception returns and other big plays sometimes would have the ball carrier with a lead blocker but no one out ahead for him to block. In that situation he continued to run ahead instead of turning around to block someone who was trying to catch the ball carrier. It looked awkward but I don't think it ended up costing any of us because it's so rare to see a player get caught from behind.
Didn't see this happen but can't say for sure it has been addressed. I know I didn't see any of the "convoy blocking" from the one video (which I thought maybe that issue was leading up to at the time) and to my knowledge no one else did either.
The cheerleader cut scenes are shown a little too often. I would rather see more post play continuation than so many cheerleader scenes.
Not quite as much of the cheerleaders, but more of the mascots, and possibly more post-play continuation. Guess that is an improvement though still not ideal.
Make sure to read through my impressions from last month (part one, part two) for further details on the game. I'll have more to add this weekend including some video clips and more analysis on the game.