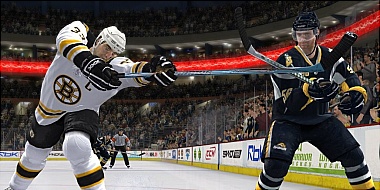 Gamespot has posted up the first NHL 09 preview, trailer and screenshots which you can check out here. Among the features discussed are the arrival of Be A Pro mode, control enhancements, furthering of create-a-play, expansion of Online Team Play, and a "mystery" feature which is supposed to be "massive".
One of the most intriguing aspects of Be a Pro mode in NHL 09 is the different types of roles you'll be able to serve when creating your player. Not only will you be able to play as a goalie, but you'll also be able to choose different types of roles as a regular skater, from a grinding, checking defenseman to a speedy, shot-taking sniper. As a result, when you're on the ice with your team, your coach will have different expectations of you depending on your role. It's these individual expectations that will form the basis for how your performance is judged in the game and how your player progresses as a result.
Seeing that EA Canada has introduced Online Team Play and Be A Pro in their FIFA and NHL titles I highly suspect we'll be seeing a superstar type mode in NBA Live 09 as well.
Just added in the trailer which you can watch by continuing on.