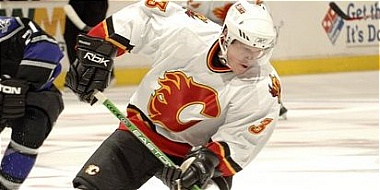 The Calgary Sun has revealed that Dion Phaneuf of the Calgary Flames will be the cover athlete for NHL 09. The first news on the game was released the other day however the cover remained a mystery until now. Apparently EA Sports has chosen Phaneuf, a defenseman, to spotlight the improvements that have been made to checking and defensive plays.
As one of the top-scoring defencemen in the NHL, as well as being widely regarded as the league's hardest hitter, Phaneuf was deemed the perfect choice for this year's version of the game, which will feature more realistic checks and deeper defensive controls.

NHL 09 will also feature a new tutorial mode to teach players not only the game's controls, but hockey strategies in general. Littman said it's a way of helping newcomers get into the action without dumbing down the game for veteran players.