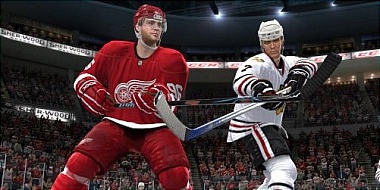 Ever since the barrage of information that has come for NHL 09, whether it be from the initial media previews or the more extensive community event reports, much of the talk has surrounded the "massive" feature (as labeled by Gamespot) that is being kept under wraps. With so many new features and improvements already known it's almost hard to imagine what else they could've added that would be so significant.
Thanks to IGN we know that it is an online feature, and one that has "never been seen in a sports game before". So a few possibilities that would seem excluded would be a basic spectator mode or online franchise. The game already has full online team play and online leagues. I wouldn't expect it to be EA Sports World related considering how the support for Madden and NCAA have turned out to be such a disappointment. From asking various attendees of the community event who know what the mystery feature is, this is very much a big deal, and not the typical media hype that leads to a letdown.
The feature may be revealed in early-mid July as another embargo date seems to have landed then. Leave your thoughts in the comments on what you think it might be or what online feature you would like to see included in the game.