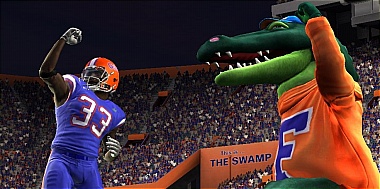 I went ahead and put together two videos from the NCAA Football 09 demo. The first is essentially a mash-up of some of the better plays in the first couple runs through the demo. The second is a full game start to finish. In both I am controlling LSU so I plan to add a user vs user video in the near future.
It is somewhat tough to compare the demo to the builds I played at the community events, mostly because I never played a single time on Varsity difficulty. As I get more time in I may be able to put some thoughts together. The general sentiment out there so far seems to be positive which despite the issues myself and others pointed out was the feeling of those who had the opportunity to play it at those events. You can continue leaving your impressions here or in the forum.
Continue on to watch the highlight video and head into the forums to watch the full game. If you have any videos of your own feel free to add them to that forum thread!