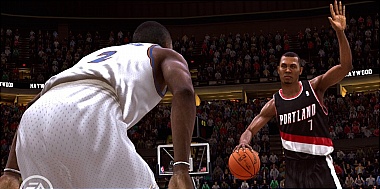 Tomorrow the 26th I will be up at EA Canada's Burnaby studio for the NBA Live 09 Community Event. Time will be had with the game and producers. This is still early in the development process so the opportunity is there for the feedback given to be acted on. Last year the early event proved to be very beneficial which led to the desire to hold it once again under similar circumstances. You can actually look back to that event as the first sign of what has since materialized with EA actively pursuing stronger community involvement.
Compared to the recent football event the time with the game will be much more limited. Despite this it should be enough to get a good feel for the direction of the game and to pass along thoughts and suggestions to the producers. To my knowledge the only thing I will not be able to discuss afterwards will be the feature being touted by EA as "ground-breaking" that will "change the way sports games are made". That won't be revealed until E3 (probably EA's press conference on July 14th).
While I'd like to hold another live blog the more limited exposure to the game may prevent that from being a good use of time. In that case look for a detailed report on the game to come late Thursday night or Friday, however I may be able to drop some preliminary thoughts prior to that.
As always feel free to leave questions or suggestions in the comments. While I can't guarantee I will be able to address them I do read them and keep them under consideration while at the events.