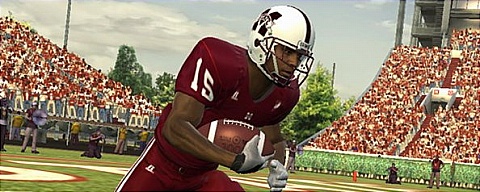 With the release of NCAA Football 09 now only days away I wanted to compile a list of some various community links that many of you should find valuable.
Custom Stadium Sounds Resource: NCAA Strategies is the place to go for your stadium sound needs. Here you can find each conference broken down by team and situation. In many cases the file is available to grab for use however you can also add input on what should play when or your own sound files for use.
Pastapadre Online Dynasty: Follow along with the dynasty as it progresses in the forum. "Weekly" recaps will be posted on the site along with a more in-depth look at the Game of the Week, but team specific reports and results can be found on a daily basis in the forum. Preparations are already taking place for the start of the dynasty on July 20th.
Prerelease (PS3) Coverage: NCAA Strategies has a PS3 copy of NCAA 09 and is pushing out content as well as actively responding to questions in the Q&A section of the forums.
Free Named Rosters: Make sure never to pay for named rosters. Here you'll be able to find gamertags and PSN names where you can enter the EA Locker section of the game, search those names, and pull the roster for free. You do not need to be on a friend's list to grab the roster from the EA Locker.
My Madden Pad: This is the place to store your saved highlight videos after downloading them from EA Sports World. They won't upload to Youtube, Vimeo, DailyMotion, or any other video hosting sites. But they will to My Madden Pad. Save them here before they are deleted from EASW which has a limit of holding only five of your videos at a time and deletes them as new ones come in.
EA Sports World: Make sure to have an account on EASW as this is where all your uploaded screenshots and video highlights will be found. Feel free to send a friend request to pastapadre. Update: If you have any problems with your EASW account then post in this thread in the forum for assistance.
MWCS: Pastapadre's own MNCS lives on at Madden Wars where it has been taken to another level by Shopmaster. This is an open competition for both the PS3 and 360 that stretches over several weeks with the winners receiving copies of Madden 09. Highly recommended.
MLCS: Madden List also has a variation of the MNCS this one being specific to the 360. A gift certificate will go out to the winner.