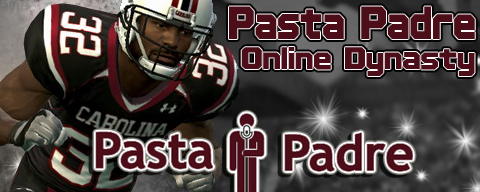 Once the Pastapadre Online Dynasty was resurrected it was back to concentrating on playing. The non-functioning screenshot uploading feature (which seems to be an isolated problem just occurring with the OD ones) had delayed this first recap in the hopes that it would be fixed. But as it has not I wanted to update on the first three weeks anyway and bring everyone up to speed on where things are at.
The top rated team currently is Clemson at #8 and four other teams are in the top 25. Only two teams have losses on their record but as the schedule progresses and the vastly over-matched FCS teams become no longer a factor the potential to see more teams taking a hit will be there. Week four is already open and you can follow along throughout the dynasty in the forum.
#8 Clemson (3-0): Clemson won the first Game of the Week by routing Alabama. Their run game appears to be unstoppable as they lead the nation is rushing and total offense. RB CJ Spiller is #1 in rushing yards with 767 and TDs with 14. On defense both Spencer Adams and Michael Hamlin have 4 INTs. Next up: FCS SE
#11 Penn State (3-0): Despite QB Daryll Clark being mistake prone (he has 7 INTs which is second most) the Nittany Lions have been successful thanks to big performances from RB Evan Royster who has 9 TDs and 6.7 YPC and WR Derrick Williams who has caught 18 balls for 343 yards and 4 TDs. Next up: Temple
#12 Arizona State (3-0): RB Keegan Herring and QB Rudy Carpenter have been stellar for the Sun Devils. Herring has 451 yards rushing and 10 TDs which is good for #3 in the nation and Carpenter has thrown 5 TDs without an INT. On defense SS Troy Nolan is tied for the most INTs with 5 and DE Luis Vasquez has brought pressure with 3 sacks. Next up: @ #1 Georgia
#14 Illinois (3-0): It has been a ground attack for Illinois thus far that has lead to their success. RB Daniel Dufrene has 5 TDs and the QB Juice Williams has 227 yards rushing of his own. WR Arrelius Benn has caught 3 of Williams' 5 TDs. On defense both Bo Flowers and Vontae Davis have 3 INTs. Next up: Bye
#24 USF (3-0): USF is the first team that wasn't in the top 25 to break into it. RB Mike Ford has done it rushing and receiving, scoring 3 TDs on the ground and catching 17 passes. QB Matt Grothe is #4 in the country with 13 TDs and has passed for 927 yards. DE George Selvie leads the team with 3 sacks. Next up: @ FIU
UCLA (3-0): Just outside of the top 25 is UCLA. Going with a system that splits carries at RB, both Kahlil Bell and Milton Knox have been effective with 8 TDs and over 400 yards between them. QB Patrick Cowan has been efficient if unspectacular has he only has 1 TD pass but has avoided throwing an INT. Next up: Arizona
Rutgers (2-0): Two blowouts for Rutgers to begin the season. In just the two games RB Kordell Young has already racked up 657 yards and 13 TDs, both good enough for #2 in the nation. DE Jonathan Freeney has 4 sacks already. This is looking like a dangerous team that could be making a play for the top 25 soon. Next up: @ Navy
Oklahoma State (3-0): The first game of the season was an unexpected nail-biter. A seemingly comfortable 18 point lead on the road against Washington State crumbled when they got 3 fourth quarter TDs (after recovering two onside kicks). But a clutch last minute drive and iced 40 yard FG won the opener. Since then OK State has two straight shutouts. QB Zac Robinson has thrown 8 TDs vs 2 INTs, RB Beau Johnson has been dependable with 6.3 YPC and 5 TDs, DE Ugo Chinasa has 4 sacks, and CB Perrish Cox leads the country with 5 INTs. Next up: Bye
Notre Dame (2-0): QB Jimmy Claussen has been sharp completing 80% of his passes. Through the first two games ND hasn't put up spectacular stats but they've got two wins which is what is most important. The 21-11 win over Michigan was huge. Next up: @ Michigan State
Indiana (2-0): Indiana has played two poor teams and blown them out. QB Kellen Lewis is completing passes at a 81% clip which is good for 2nd in the nation. RB Marcus Thigpen has been is getting 8.1 YPC and has scored 5 TDs. Next up: Ball State
Iowa State (2-1): It was a 3 OT thriller that saw Iowa State beat Iowa and up their record to 2-1. Their biggest playmaker is WR RJ Sumrall who has 15 catches and 4 TDs. QB Austen Arnaud has 10 TDs to 4 INTs and 895 yards. The team has yet to record a sack. Next up: @ UNLV
TCU (2-2): Taking over for Florida State who had to drop out is Mulnik with TCU. The team is led by the trio of Jerry Hughes, Cody Moore, and Kelly Griffin on defense who've combined for 11 sacks. RB Aaron Brown has 7 TDs and QB Andy Dalton has thrown 4. Next up: @ SMU
As more recruits start to commit things will get even more interesting. The competition is just starting to heat up so stay tuned for more updates from the Pastapadre Online Dynasty.