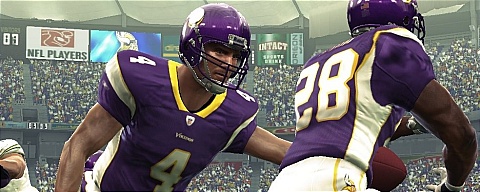 So when I got to figuring out what type of event I'd like to run for Madden 09 there were several possibilities. With how enjoyable the NCAA online dynasty has been this would be something to look forward to.
The first thought was an online league given the addition to the game this year, but ultimately those are almost guaranteed to fail and more frustrating than fun. I definitely wouldn't have the time to commit to running one.
But then I fell back on something I did last year regarding the use of custom teams online. It incorporates the idea drafting a team, though not going to the extent of drafting every player.
Essentially it would be an online competition where 12 or 14 individuals would have their created teams (Xbox 360). The draft will only shape part of the team. The plan for now would be to go 30 rounds. The remaining players for the teams will be filled with anyone who wasn't drafted but are rated 80 or below (86 or below for kickers and punters).
Trades can be made during the draft (including picks) but after the draft no changes can be made to the teams. This is because any changes made would require the team to be rebuilt, including the uniforms and stadium. That's just too much work.
With the custom teams you get to play with your unique uniforms and created stadium. Unfortunately they still don't let you see the player names of the opposing team online, but its better than nothing.
The forums will be used for tracking results, listing of official rosters, and team threads.
What I'm thinking is something like 3 weeks of playing anyone else within the group with your created teams. All custom games are unranked so they'd be 6 minutes on All-Pro difficulty. We'll keep track of records and W/L records against each team. Come the end of the 3 weeks teams will be seeded for a final championship tournament. I should be able to get a prize for the winner also.
I like to keep things open to make things more enjoyable, so there wont be schedules or requirements on who to play how many times, ect. I'll seed the teams at the end for the tournament based on records, strength of schedule and other factors.
There will be no restrictive "rules" for the games other than to play respectfully. I do have a strict rule against whining though. I don't anticipate any problems in this area since this is just for fun and I would hope people wouldn't try to take advantage of exploits.
The draft will be LIVE via chat and updated on the main page of the site, probably next Saturday afternoon (will update this when I'm sure). Two minutes will be allowed per selection. If you can make it for that please note that in your reply. Preparations should be for a few hours, though all would not have to be done at the time. If it got to be too long the rest could be completed through the forums over the course of a few days. I think the live aspect will make it more fun though.
If you are interested in taking part feel free to post below or in the forum thread. You do not need to leave put your email address since your comment includes that. I can contact through the email that is left with the comment or through PM in the forums. Within the next few days I'll lay out the people who have been chosen. I apologize again to anyone who is interested but with the limited amount of spots only a few will be involved. Thanks for understanding.
If you have any questions about how this would work let me know. Feel free to ask here or in the forum thread.