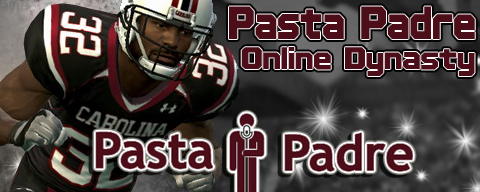 The Pastapadre Online Dynasty has now advanced through week six, thankfully without experiencing any more major catastrophes. Arizona State was able to pull off a nail-biter of an upset over top ranked Georgia, but Clemson remains the highest ranking team at #4. In the first head-to-head game of the year it was Illinois coming out on top over Penn State to take control of the Big 10. The upcoming game for Illinois against still undefeated Indiana looms large for that conference.
As teams have continued to show dominance over the CPU the upcoming patch that will fix sliders will likely lead to adjustments next season. But for the rest of this year we'll be rolling on as is. Continue to view the latest standings, Heisman Watch, recruiting update, and the big games ahead for the next three weeks.
Standings
#4 Clemson (6-0)
#6 Arizona State (5-0)
#8 Illinois (5-0)
#16 Penn State (5-1)
#21 USF (6-0)
#23 Oklahoma State (6-0)
#24 UCLA (5-0)
Rutgers (5-0)
Notre Dame (5-0)
Indiana (5-0)
Iowa State (3-2)
TCU (3-3)

Heisman Watch
Kordell Young, HB, Rutgers: Rushing 106-1183-25
Jacoby Ford, WR, Clemson: Receiving 12-330-5, 7 Punt Return TDs
Mike Ford, HB, USF: Rushing 122-685-14, Receiving 39-515-5
CJ Spiller, HB, Clemson: Rushing 75-1197-20
Chris Wells, HB, Ohio State: Rushing 110-697-12
Recruiting Update
UCLA leads the nation with 4 commitments (a 5 star and three 4 star). Notre Dame is second (two 5 star and one 4 star), Clemson third (one 5 star and two 3 star), and Penn State seventh (one 5 star).
Upcoming Games to Watch
#23 Oklahoma State @ #13 Missouri (Week 7)
#16 Penn State @ #11 Wisconsin (Week 7)
#6 Arizona State @ #10 USC (Week 7)
#24 UCLA @ #22 Oregon (Week 7)
Indiana @ Illinois (Week 8)* Head to Head Game
Oklahoma State @ Texas (Week 9)
Illinois @ Wisconsin (Week 9)
Oregon @ Arizona State (Week 9)
Penn State @ Ohio State (Week 9)