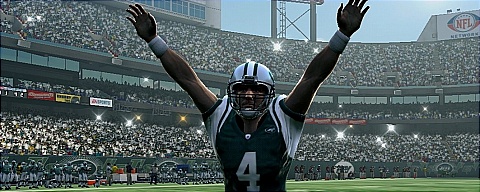 For the first full game video from Madden 09 there would be nothing more fitting than featuring Brett Favre on his new team. For the opponent I chose a division rival in the Bills as these two teams look to be competing for a wild card spot in the playoffs this year.
This game includes my favorite play executed with Madden so far. On the first play of the 4th quarter I had to retreat from the pocket. At the last second I noticed a wide open Laveranues Coles way down field. I was able to get the pass off and get the ball to him just before the defenders closed in. It seemed to me to be a classic Brett Favre type of play.
Continue on to watch the entire game as broken down into five segments.