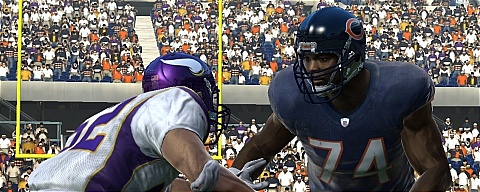 EA Sports has released the breakdown of all the changes within the roster update for Madden 09 that will be out by (or on) release day*. An update has already been done taking care of many of the changes that are detailed even as they continue to add to the upcoming one to make it the most accurate possible.
*The update came out on 8/8
Last year there was an average of just below two updates a month which would seem sufficient. The problem was a long painful stretch from mid-November to mid-January that lacked any. If they can keep the consistency up this year than everyone should be pleased with the post-release roster support.
One thing that isn't noted in this list is the fixing of player numbers. I immediately noticed that Julian Peterson had gone from the #59 of last year to the #98 of this year. Continue on to view the complete list of transactions, ratings adjustments, new contract lengths, and injured reserve placement.

Transactions
HB Cedric Benson – Released to Free Agents
HB Kevin Jones – Signs with Bears
CB Blue Adams – Released by Bengals (Removed)
HB Kenny Irons – Released by Bengals
HB DeDe Dorsey – Added to Bengals
LT Demetrius Bell – Released to Free Agents
LB Donnie Spragan – Signs with Bills
HB Mike Bell – Released by Broncos
DT Carlton Powell – Released to Free Agents (IR)
DT Kenny Peterson – Added to Broncos
FB Peyton Hillis – Added to Broncos
FS John Lynch – Released by Broncos
C LeCharles Bentley – Released by Browns
QB Ken Dorsey – Released to Free Agents
C Marvin Philip – Added to Browns
WR Kevin Kasper – Added to Browns
LB Ryan Nece – Added to Bucs
TE Troy Bienemann – Released by Cardinals
RT Kelly Butler – Signs with Cardinals
LG Jasper Harvey – Added to Cardinals
LG Scott Peters – Removed (IR)
HB Marcel Shipp – Released by Cardinals
WR Eric Parker – Released by Chargers
K Billy Cundiff – Released by Chiefs
FB Oliver Hoyte – Released to Free Agents
FB Chris Manderino – Added to Chiefs
K Nick Novak – Added to Chiefs
LB Nate Harris – Released by Chiefs (Removed)
FS Brandon Condren – Added to Colts
WR Terry Glenn – Released by Cowboys
RT Julius Wilson – Released by Dolphins
RT Trey Darilek – Added to Dolphins
DE Quentin Moses – Added to Dolphins
DT Dan Klecko – Released to Free Agents
DT LaJuan Ramsey – Released to Free Agents
DT Kimo von Oelhoffen – Signs with Eagles
FB Jason Davis – Added to Eagles
FS Jimmy Williams – Released by Falcons
CB Wilrey Fontenot – Added to Falcons
DT Grady Jackson – Signs with Falcons
LG Qasim Mitchell – Released to Free Agents
RT Shane Olivea – Signs with Giants
DE Renaldo Wynn – Signs with Giants
TE Michael Matthews – Added to Giants
RT Adam Koets – Released to Free Agents
LT Barry Sims – Added to 49ers
S Darnell Bing – Released by Jets (Removed)
QB Chad Pennington – Released to Free Agents
SS Cameron Worrell – Signs with Jets
WR Devale Ellis – Added to Lions
QB Brett Favre – Traded to Jets
FB John Kuhn – Released to Free Agents
HB Alex Haynes – Released by Panthers
FB Kyle Eckel – Released to Free Agents
LB Jon Alston – Released to Free Agents
S Greg Wesley – Signs with Raiders
WR Todd Watkins – Added to Raiders
RT Seth Wand – Added to Raiders
RT Mark Wilson – Released to Free Agents (IR)
HB LaMont Jordan – Released by Raiders/Signs with Patriots
LB Vince Hall – Released to Free Agents
LB David Vobora – Added to Rams
FS Eric Bassey – Added to Rams
FS Stuart Schweigert – Released by Redskins
DE Jason Taylor – Traded to Redskins
TE Tyler Ecker – Released to Free Agents
TE Jeremy Shockey – Traded to Saints
SS Mike Green – Released by Seahawks
SS Jamar Adams – Signs with Seahawks
HB Najeh Davenport – Released by Steelers
P Paul Ernster – Signs with Steelers
LT Tony Hills – Released to Free Agents
HB Gary Russell – Added to Steelers
QB Quinn Gray – Released by Texans
LT Jordan Black – Released by Texans
WR Mike Williams – Released by Titans
DE Sean Conover – Added to Titans
HB Travis Henry – Suspended
DT Claude Wroten – Suspended
LB Ian Gold – Retires
DE Michael Strahan – Retires
G Gene Mruczkowski – Retires
DT Quinn Pitcock – Retires
S Artrell Hawkins – Retires
Ratings Up
RT Stacey Andrews – Bengals – 78 to 83 – Franchise tagged. A versatile lineman that can play 4 positions.
LB Brandon Johnson – Bengals – 67 to 71 – Has impressed with 1st round pick Keith Rivers holding out.
HB Chris Perry – Bengals – 80 to 82 – Early word is that he has recovered from injuries that cost him the better part of his first 4 seasons.
LG Andrew Whitworth – Bengals – 82 to 86 – Mammoth body at LG for the Bengals. Just received a contract extension.
HB Kenny Watson – Bengals – 82 to 83 – Underrated backup in Cincy behind Rudi Johnson.
WR Steve Johnson – Bills – 71 to 75 – 4 year College player from Kentucky drafted in the 7th round has been good so far in camp.
HB Ryan Torain – Broncos – 71 to 76 – An torn ligament to his elbow put this budding Denver backs campaign for the starting position on hold for now.
WR Michael Clayton – Bucs – 78 to 79 – Gruden says he looks like the old Michael Clayton again and looks to be in the mix this season.
LB Bertrand Berry – Cardinals – 82 to 84 – Injuries have cost Berry the past two seasons. He looks to regain his pass rushing form that netted him 26 sacks in 03' and '04.
HB Tim Hightower – Cardinals – 71 to 74 – Marcel Shipp was cut to give this guy the backup tailback job to this rookie 5th rounder from Richmond.
WR Marvin Harrison – Colts – 94 to 96 – Early word is his knee is fine and the old Marvin is back.
LB Clint Session – Colts – 70 to 75 – In a battle for a starting linebacker spot with the injured Tyjuan Hagler.
WR Isaiah Stanback – Cowboys – 66 to 68 – The Cowboys have continued to speak highly about this former college QB's transition to WR. This is his second season at WR.
HB Ricky Williams – Dolphins – 83 to 85 – Ricky looks like "a beast" and is running very hard and should get plenty of carries this year in Miami.
WR Derek Hagan – Dolphins – 72 to 76 – Has jumped Ernest Wilford on the depth chart. Not likely to stick but he has drawn praise on his growth from last season.
DE Victor Abiamiri – Eagles – 75 to 79 – In a position battle with Juqua Parker to start opposite Trent Cole in Philly.
DT Mike Patterson – Eagles – 84 to 87 – Averaging over 50 tackles and 3 sacks a season his first three years in the NFL out of USC.
HB Lorenzo Booker – Eagles – 77 to 79 – Looks to be in the mix for touches in Philly this year and has passed Tony Hunt on the depth chart after being acquired from the Dolphins for a 4th round pick in the offseason.
LB Akeem Jordan – Eagles – 64 to 69 – Is the Eagles 4th LB this year and should be more involved.
CB Brent Grimes – Falcons – 68 to 72 – His role just got bigger as the Falcons lost free agent CB Von Hutchins for the year.
RG Max Jean-Gilles – Eagles – 80 to 82 – Keeps drawing praise for his play while Shawn Andrews was out after a strong finish to last season.
HB Michael Robinson – 49ers – 77 to 79 – Fighting off free agent pickup DeShaun Foster for backup touches in San Francisco.
TE Delanie Walker – 49ers – 73 to 77 – "Freakishly athletic" TE for the Niners. Looks to be in line for some playing time as Martz loves him so far.
WR Mike Walker – Jaguars – 71 to 75 – Looks to have recovered from a knee injury last year and has looked good early.
CB Leigh Bodden – Lions – 90 to 91 – Acquired from Cleveland for Shaun Rogers in the offseason. Is one of the leagues underrated corners now playing in the Tampa 2.
DE Cliff Avril – Lions – 76 to 79 – This guy is gonna be a problem for tackles for a while. Looks to be a real threat coming off the edge in his rookie year.
CB Tramon Williams – Packers – 75 to 78 – Fighting off rookie Pat Lee for the nickel job in Green Bay. Also is an explosive returner in the return game.
LB Desmond Bishop – Packers – 73 to 75 – Has past Abdul Hodge for the backup MLB job behind Nick Barnett.
HB Brandon Jackson – Packers – 81 to 83 – Did his play in camp get Ryan Grant to rush back? Looks to be improved from his rookie season.
WR Sam Aiken – Patriots – 68 to 73 – Has risen up the Patriots WR depth chart after being signed from Buffalo in the offseason.
LB Ricky Brown – Raiders – 62 to 71 – Currently penciled in as the Raiders starting strong side linebacker.
QB Andrew Walter – Raiders – 76 to 78 – If given time offers a more than serviceable backup in Oakland.
DT Cliff Ryan – Rams – 74 to 77 – Had 30 tackles and 2 sacks his rookie year. His role just got bigger with the loss of DT Claude Wroten to a yearlong suspension.
QB Troy Smith – Ravens – 73 to 76 – In the fold to start at quarterback for the Ravens. Consistently struggles with accuracy but might be a good manager for a team that might make one more run before surefire rebuilding begins.
WR Derrick Mason – Ravens – 87 to 89 – Has had 1,000 yards 6 out of the past 7 season, and 2 out of 3 in Baltimore. Had one of his best season last year.
FS Haruki Nakamura – Ravens – 72 to 77 – Has been a true "ball hawk" in camp and will be in the field this year it looks like.
HB Willis McGahee – Ravens – 91 to 92 – Rushed for 1,200+ yards with 7 TD's and 40+ catches on a team with a limited passing game. Knee injuries have been bothering him this far in camp.
QB Colt Brennan – Redskins – 73 to 74 – Looks like everyone was hard on him for getting met in the backfield by two SEC ends on every play in the bowl game. Looked sharp in his preseason debut.
WR Adrian Arrington – Saints – 68 to 71 – Doesn't have a great shot at making the team but is guaranteed to be on the practice squad if he doesn't make the team over any of Devery Henderson/Lance Moore/Terrance Copper.
DT Red Bryant – Seahawks – 74 to 78 – An injury derailed his strong start to camp.
DT Brandon Mebane – Seahawks – 80 to 82 – Very strong DT who bull rushed his way to 29 tackles and 2 sacks his rookie season.
LB Lawrence Timmons – Steelers – 75 to 78 – Has drawn a lot of praise so far as he transitions to MLB for the Steelers after an ineffective rookie year.
WR Santonio Holmes – Steelers – 85 to 86 – Looks to take another step in becoming an elite WR.
CB Fred Bennett – Texans – 82 to 84 – K.C. Joyner voted him the best cornerback last year, and he was a rookie.
HB Steve Slaton – Texans – 72 to 75 – As long as he can hold onto the ball he should get touches in a crowded Texan backfield.
LB Stephen Tulloch – Titans – 79 to 80 – Has delivered bone crushing hits in camp and is still penciled in as the backup behind Ryan Fowler.
WR Brandon Jones – Titans – 80 to 81 – Looks to be the most talented Titan receiver on a cast of thousands.
DT Fred Evans – Vikings – 68 to 71 – Should get more playing time with the departure of free agent DT Spencer Johnson.
Ratings Down
WR Mark Bradley – Bears – 77 to 75 – Has never cracked it in the NFL. Can't move up a bad Bears wide receiver core.
FB Jeremi Johnson – Bengals – 87 to 86 – Has continued to unimpress in Cincy.
WR Jerome Simpson – Bengals – 76 to 71 – Looks like at least this year will be a learning season in the NFL, feedback has not been good so far.
RT Willie Anderson – Bengals – 92 to 89 – Tries to hold off Stacey Andrews and looks to be near the end of his fine career.
DE Igor Olshansky – Chargers – 86 to 83 – Chargers appear content to let him walk after this year after resigning Luis Castillo.
RG Mike Goff – Chargers – 88 to 86 – The tandem of Goff and RT Clary are not nearly as effective as the Pro Bowl left side of the Charger line.
LB Napoleon Harris – Chiefs – 84 to 80 – Whether its camp head games or not has dropped to 2nd at MLB behind a guy 99.5% of people have never heard of (Pat Thomas).
LB Bobby Carpenter – Cowboys – 80 to 78 – Doesn't appear to be an ideal fit for a 3-4 defense and they appeared to be unsuccessful in trading him this offseason.
FB Reagan Mauia – Dolphins – 89 to 88 – Has drawn heavy criticism for the bricks where his hands are supposed to be.
WR Ernest Wilford – Dolphins – 84 to 83 – Cannot get open in practice and has been passed on the depth chart by consistently disappointed Derek Hagan.
QB John Beck – Dolphins – 78 to 77 – His nickname is "Checkdown" by a local Miami writer. Guess that is what happens when you are accustomed to having 0.6 seconds to throw.
WR Mario Manningham – Giants – 78 to 76 – Has looked slow and can't get open in New York so far.
DT Justin Harrell – Packers – 77 to 74 – This guy has bust written across his forehead.
DE Cullen Jenkins – Packers – 92 to 90 – A talented and versatile defensive lineman, but not 92 OVR talented.
DT Terdell Sands – Raiders – 83 to 79 – Can't start over big money Gerard Warren. He seems to be unmotivated.
RG Fred Weary – Texans – 77 to 74 – Currently a backup behind undrafted Mike Brisiel in Houston. Could be cut.
Contracts
DT Tommie Harris – Bears – 5 years total
LB Brian Urlacher – Bears – 5 years total
WR Devin Hester – Bears – 6 years total
LG Andrew Whitworth – Bengals – 6 years total
DT Kyle Williams – Bills – 5 years total
HB Earnest Graham – Bucs – 4 years total
RG Brad Butler – Bills – 5 years total
HB Earnest Graham – Bucs – 4 years total
FS Ken Hamlin – Cowboys – 6 years total
TE Delanie Walker – 49ers – 5 years total
RG Chris Snee – Giants – 6 years total
DE Paul Spicer – Jaguars – 3 years total
CB Leigh Bodden – Lions – 6 years total
LB Brady Poppinga – Packers – 5 years total
HB Ryan Grant – Packers – 4 years total
DE Will Smith – Saints – 7 years total
WR Marques Colston – Saints – 4 years total
RT David Stewart – Titans – 6 years total
Injuries – IR
LB Alvin Bowen – Bills – Knee
CB Von Hutchins – Falcons – Foot
DE Phillip Daniels – Redskins – Knee
DT DeMario Pressley – Saints – Foot
P Daniel Sepulveda – Steelers – Knee