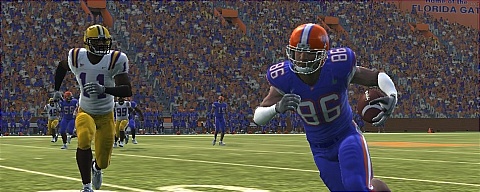 Official NPD sales numbers for July have been released and offer the first opportunity to compare year over year how NCAA Football 09 is faring.
Sales on the 360 were nearly identical to last year. Despite gaining significant user base EA was unable to increase sales at all there. 397,000 this year just as it was with 08. Over with the PS3 however there was a pickup of 86,000 units going from 156,000 to 242,000. With the PS3 playing catch up to the 360 we've seen sales increasing there at a higher rate than the user base gained by the 360 in the same time. Meanwhile it is no surprise to see that the Wii version didn't make it into the top 10 in software sales for the month.
In the previous generation NCAA 06 saw the highest number with 611,000 on the PS2 and 332,000 on the Xbox. Combining the 360 & PS3 with 09 we now have a total that outreaches that of 639,000. That still leaves a difference of 304,000. Last year the PS2 version sold 236,000 in the month, that number is probably about half that this year. Counting in the PS2 and Wii the total number of sales would look to fall short of 06, but it is important to note that even though there may have been less sales the 360 and PS3 versions are bringing in $10 more per copy.
The hardcore crowd seems to be almost fully realized in this generation, with the Wii having the most potential to see a surge. If sub-par releases like NCAA 09 continue on the Wii though that isn't going to happen. The 360 and PS3 would seem to have marginal room for improvement, with the PS3 likely to close the gap some in coming years.
Madden 09 sales have reportedly been comparable to last year, this after hearing that pre-orders had been down. Analysts are attributing that to the quality of the game as it has been the best received in years.