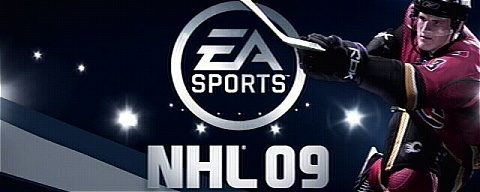 The game running away with the most anticipated for September poll now has a its demo available for the PS3 and the 360 will likely receive it next week. The demo features the 3rd period of Play Now or Be A Pro with the Penguins @ Red Wings. It also includes a few basic tutorials (shooting, skating, defense).
In a pleasant surprise there are a few settings that can be changed. The difficulty level can be set to either Pro or All-Star and the cameras can be set to Ice, Classic, Overhead, Broadcast, Action (Play Now) or Low/High (Be a Pro). The period length is locked in for five minutes. In Be a Pro you take over Sidney Crosby of the Penguins or Henrik Zetterberg of the Red Wings.
Basically I've spent all my time thus far in the Be a Pro and my immediate thought was this mode would appeal to both fans of the sport as well as those who aren't or don't have as good an understanding of it. I liked the directional line giving me an idea of where I should be at a given time and found that I prefer the high camera. While the low camera takes you closer into the action it can be disorienting and difficult to know what is happening at times. When playing the game the standard way I'd feel like I was trapped in a back and forth mess of action, but in Be a Pro I can concentrate and play that specific role instead of worrying about controlling everything that happens.
With Be a Pro, Online Team Play, the EA Sports Hockey League and uploading of screenshots and videos to EA Sports World I can actually see NHL 09 offering a longevity that has been difficult to come by with most sports games as of late. The exception to that has been Online Dynasty in NCAA Football and Online Team Play in NBA Live. The common tie really seems to be the freedom teamed with interactivity as well as the more realistic and enjoyable focus that can be had by controlling a single player which to me seems far more rewarding an experience.
What are your thoughts on the demo and the Be a Pro mode? Leave them in the comments and continue on to view two Be a Pro videos from the demo as Crosby (high camera, pro difficulty) and Zetterberg (low camera, all-star difficulty).