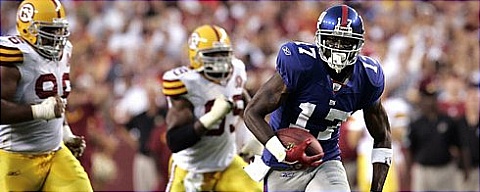 Something I've done a few times now that has seemed to be real successful is holding live blogs. The one for the NFL Draft and at the football community event actually represented the most traffic had received to those respective dates.
So with the NFL season beginning on Thursday night featuring two teams that couldn't thrill me much less I thought it would be interesting to post comments throughout in the live blog. Even though I can't stand them it is a rivalry and the opener so it is still going to be a fun night. As the game progresses you can leave comments or questions about anything and I may respond to those in the blog as well. The live blog will begin minutes before the game starts at 7ET/4PT.
Don't forget to at least get your choice for this game entered into the Pick'em by kickoff. The rest of the games won't lock until the first game begins on Sunday. If you aren't in the pick'em or need the details again head here.
So who do you have taking the opener? The Giants played poorly at home last year including having a whooping put on them by these very Redskins in a game I was actually in attendance for. It still seems as though it would be difficult to go against the defending champs given the circumstances. The Giants are four point favorites.