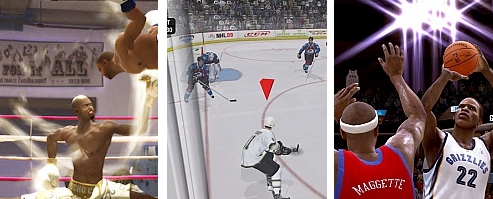 With the recent lull news wise I've been planning ahead for some of the soon to be released games. I should have Facebreaker tomorrow or Friday which will lead into some activities tying into that game and NHL 09 follows shortly thereafter. Here are just some of the things to look forward to. I'll be doing something for NBA 2K9 but am waiting to hear about the unannounced online element before planning it. If you are interested in taking part in any of these feel free to comment and just keep an eye on the site for more details in the near future.
Facebreaker character contest: Whether this will be category based such as best celebrity or best athlete I haven't decided yet, but it will be about creating the best character using Photo Face which will be voted on by the community with a prize going to the winner.
Facebreaker video spotlight: I'll be showing off some of my personal highlight clips from EASW along with my favorites from around the community.
Pastapadre Hockey Club: NHL 09's new EA Sports Hockey League will have a Pastapadre club. Members of the community welcome to join and help represent!
NBA Live 09 demo coverage: With the demo coming (likely on the 16th or 18th) I'll be writing up impressions on how it compares to the build I played a couple months back as well as posting videos and random thoughts.
Pastapadre NBA Live 09 Club: After how much fun everyone had with Online Team Play last year this is easily the thing I've looked forward to more than anything. The Pastapadre Club is going to compete with the best in NBA Live 09. This will start taking shape even before Live releases with info on how to be considered and plans for how the club will be put together.