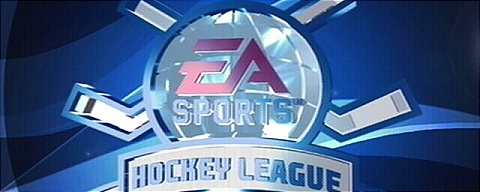 After spending all night playing EASHL in NHL 09 it is clear that this is one of if not the best feature a sports game has ever offered. I sat down in the early evening and didn't expect to play for very long. Six hours later I was still online. It was probably the most fun I've had playing a video game in years. It easily topped the Online Team Play experience from the 08 games thanks in part to having the games count and having your own self to play for.
When the game starts up you create your player which you can edit later. But that is your identity when playing in the EASHL. Your name is on the back of the jersey and you're gaining attribute points to distribute. As a member of a club you have access to the "Dressing Room" where you meet up with teammates. From there you head into games against other clubs. You can choose any position to play, you aren't locked into what you had set for your player. In this mode you are controlling just yourself on the ice and are assessed based on performance for your particular position. This means if you get a penalty you're literally watching the action from the box. At the end of the game you're graded on your performance. You'll carry a grade along with your stats which are tracked for numerous categories. All club games count towards the club's record and placement within the ranking system. Performance wise there was no lag even in the biggest game that was participated in which totaled nine users involved.
If you'd like to join club Pasta Padre (Xbox 360) than leave a comment with your gamertag. Please only those who will be actively playing on a regular basis. The club isn't about winning but just about having fun. I decided this even before losing seven straight games (current record: 2-9). We can especially use people who know how to score goals. When I get a chance I'll send out club invites.  Please know that an invite can only be sent to gamertags that have played NHL 09. You accept an invite by pulling up your player HUB from within the game.
I went ahead and recorded videos of some of the games. I'll be posting a few of them on Saturday morning/afternoon.