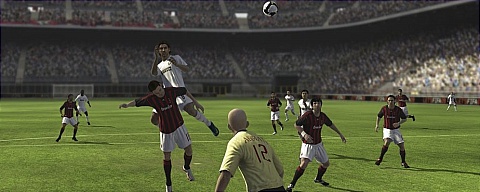 Last night I had my first opportunity to get some time with Be a Pro: Online Team Play in FIFA 09. This year FIFA has expanded up to 10 vs 10 with only the goalie being CPU controlled. Also implemented is the Club system seen in NHL 09 and NBA Live 09.
In my first game I took on the LB position for Milan going up against Barcelona. The game ended in a 1-1 tie when Barcelona scored with just a few minutes remaining. It seems there is no OT in OTP. The game was completely full…20 different people connected and each player user controlled. Stunningly there was absolutely no evidence of lag. The online performance was about as perfect as can be. EA Canada continues to excel in this area and they deserve a lot credit for doing so. They're delivering great online features and the performance to back them up.
Because of the slower pace that comes with soccer it felt as though there could be more strategy involved. I'm not sure if I would say it is as fun as the EASHL but it definitely gave a satisfying feeling that I haven't had from playing a soccer game in the past. I'm much more comfortable focusing as an individual than taking over the whole team in FIFA. With so many people involved it gave me the vibe of an MMO. Even from just seeing all the gamertags above the players was a cool sight and made me feel a part of something bigger. As with NHL and Live they need to find a way to allow you to save replays from online games in the future.
I recorded a good portion of the game to show how the mode functions and how the game flows. I was pleased that both sides played true (no one attempting to ruin the experience) and had mutliple scoring opportunities. Continue on to view the video.