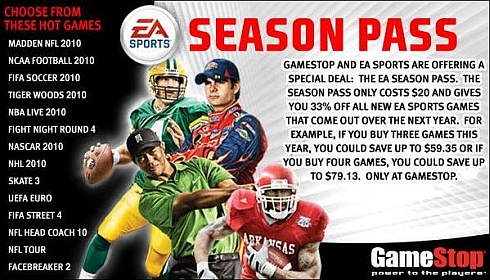 Making the rounds today is a graphic that details an EA Sports Season Pass that would be available only at Gamestop. According to the details it would cost $20 and then provide 33% off the purchase of all EA Sports titles throughout the year.
There are a couple things that seem off about this to me. The first is that the cost of the Season Pass would be equal to the savings on the first game purchased. Generally something like this would be used as an incentive to get consumers to buy more games than they would have otherwise over the course of the year and not provide savings already by the time they reach their second purchase. Also the image lists out games such as NFL Head Coach 2010, Facebreaker 2, NFL Tour, and FIFA Street 4…all of which I don't believe to be in development. Skate isn't an EA Sports franchise and NCAA Basketball 2010 is not listed.
If the Season Pass does materialize as suggested by the graphic it would offer great value and surely result in consumers heading to Gamestop to make their EA Sports purchases. Getting those people in the door would benefit Gamestop, and having a value program that encourages new game sales would benefit EA. At this point though I'm hesitant to put much stock into this news. There has been no official response from EA on this matter as of yet.