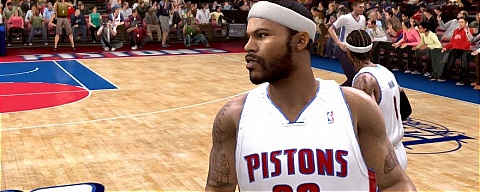 The last update I had concentrated on the emerging story of Anthony Morrow. He had been added into NBA Live 09 through 365 following his first game. Though his ratings now can be identified as being far off from accurate (I couldn't make a shot with him) the feature did get him in immediately after his first appearance. At the time 2K9 did not have him in the game however the latest roster update has added him in. That made it 10 days from the time Morrow first appeared to when 2K9 had him in their game. That may not be ideal but it certainly represents a huge improvement over the roster updates provided by either NBA title until this year.
A new element coming into play with 365 is the shot and impact streaks. The last 10 games are factored into whether a player is hot or cold and the impact they are having on the team. Now that there have been enough games played this season the streaks are up and running in Live. How much they mean within the context of playing Live is still uncertain. Keeping the streaks restricted to the last 10 games though should offer a fairly accurate picture of how a player has been performing recently.
Continue on to see the Top 10 Hot and Cold players and a some examples of individuals and how their shooting or impact have been reflected through the first two weeks of the season.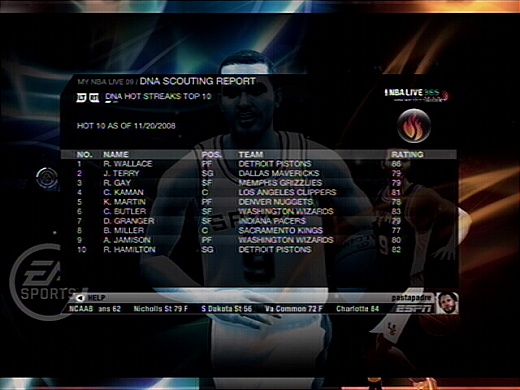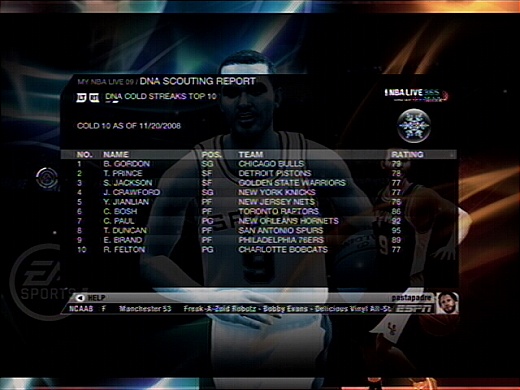 All of this just reflects the last 10 games, essentially giving a picture of the start that these players have had to the 08-09 season. We still haven't seen any real movement to player ratings, so it is difficult to tell how much the streaks mean to how they play in Live.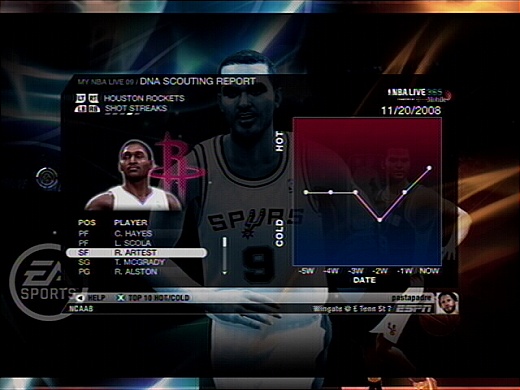 Artest is shooting mildly well for the Rockets. According to the data he has improved from the first week to the second Looking at his stats he is shooting 42% in the last week. Considering he was shooting 25% in the games prior to this last week he probably should have been colder than what the dip there displays.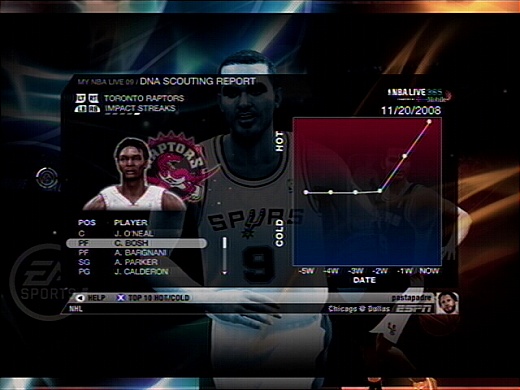 It is no surprise that Bosh has a huge impact on the Raptors. He is averaging 25.5 PPG, 11 RPG, and 54% shooting.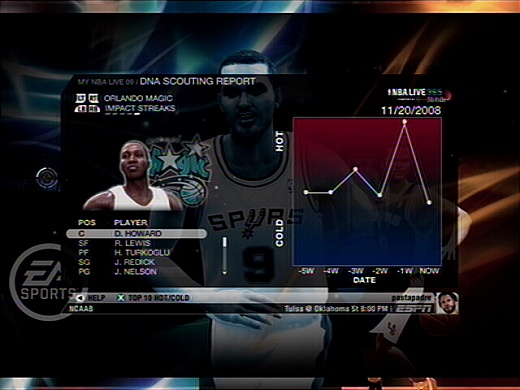 Dwight Howard is another player that drives his team. So why is his impact down in the chart? Looking at his performance the last week he had one game with 26 minutes played, no field goals, and 4 points. His scoring and rebounding is down from the three games that took place November 8th-12th where he averaged 30 points and 18 rebounds plus had a game with 10 blocked shots.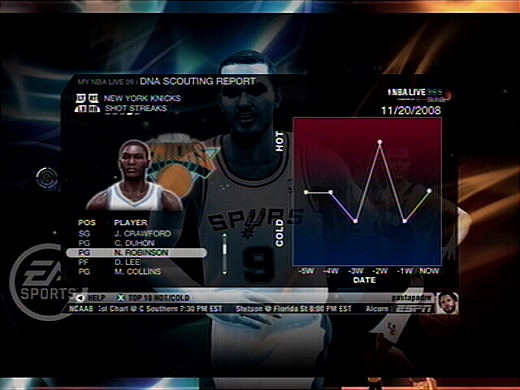 The Knicks have been a pleasant surprise this year, due in part to the performance of Nate Robinson. He started the season hot and has since leveled off.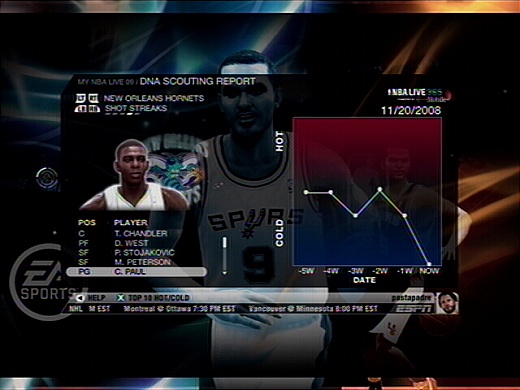 Chris Paul is a fantastic player, but as you can see from his shot streak shows he hasn't been sharp. Games where he shot 2-10 and 4-12 is probably where the fault lies, plus he hasn't been knocking down his 3 point attempts. Still the chart seems pretty drastic considering he has 50% FG shooting on the season.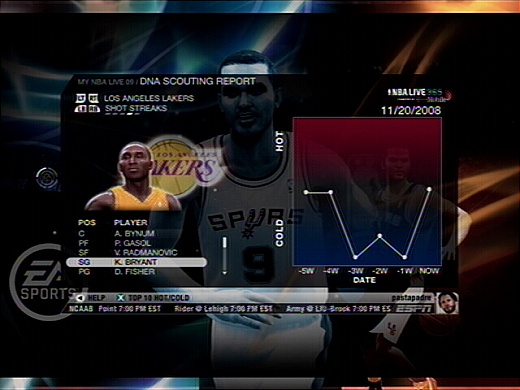 Looking at this it would seem that Kobe Bryant began the season shooting below his average but has since pulled out of that. This one doesn't make much sense to me though as he had games with 5-15 and 12-30 shooting in the last week but has risen up.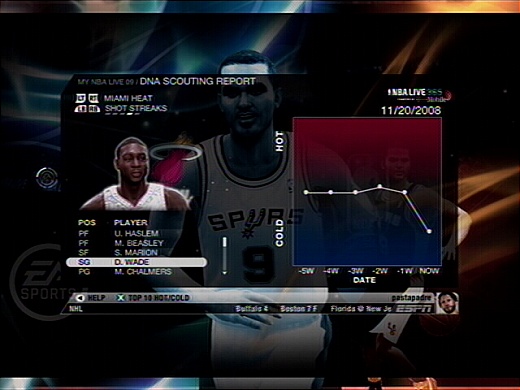 Dwayne Wade is having a stellar season, his low point total for any game is 19. Still his streak chart isn't showing him as shooting particularly well. Remember that these charts are all relative. So Wade would have to be shooting above or below his typical average in order for it to display a change.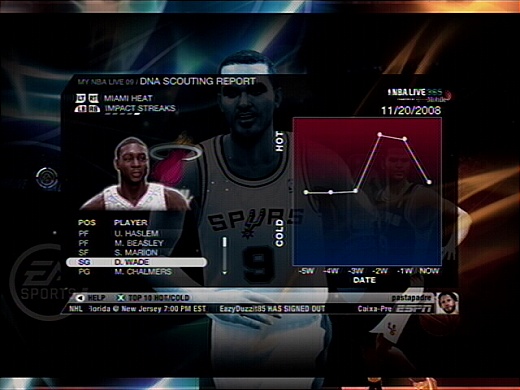 And clearly he remains as the biggest factor of whether the Heat are successful or not. So far this season he has put up some big performances, beyond the norm, which show in his impact chart.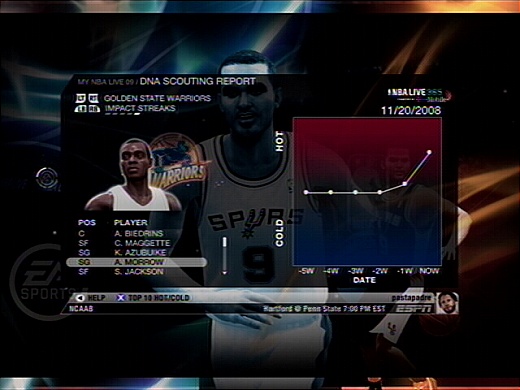 And of course the hot NBA story that has been Anthony Morrow. Here you can see how he has risen in the impact he provides for the Warriors. His 37 point, 11 rebound first start was followed up by a 25 point performance. He has gone 8-10 from 3 point range in his two starts so far. In his two starts he has averaged 39 minutes played compared to the 13 minutes he was getting coming off the bench in the previous three games.