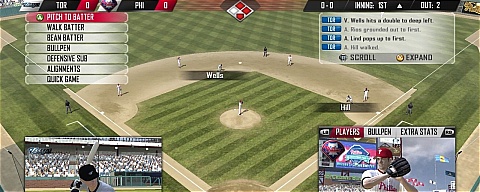 Gamespot has posted up the latest preview of MLB Front Office Manager. As we've now hit what is generally the dead spot in the sports gaming year it is nice to have a game to look forward to that splits the difference between now and when the baseball titles are released in the first week of March. In the past January has generally offered an arcade style game such as NBA Street or NFL Tour.
Based on the depth of statistics, you can probably guess the level of off-the field depth in the FOM. As GM, it will be your task to engineer trade offers, develop scouting pipelines, negotiate player contracts, and oversee the development of your young talent. You will need to balance your zeal for trading with the effect trades may have on team synergy and player morale.
Where NFL Head Coach proved a little too intimidating and daunting, the baseball management sim is a more natural fit for fans. This one seems to have a lot of potential especially when it comes to the Online Fantasy League, which as NCAA Football 09 proved with Online Dynasty, a mode such as that can make a game and provide a great deal of value on its own.