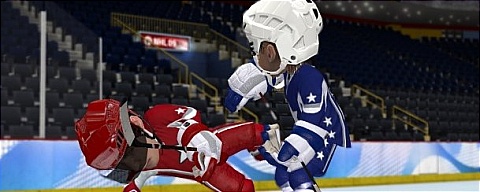 After the success of the New Years Day Winter Classic I proposed that it was time for the return of an arcade style hockey game. 63% of the poll respondents stated that they would possibly be interested in such a title. While this isn't exactly what I had in mind it does come close.
EA Sports is developing 3 on 3 NHL Arcade for the 360 and PS3. The game will be released in February and will be available to download on the Xbox Live Marketplace and Playstation Network. The price has been set at $10/800 MS points. IGN has the first details.
With no rules to hinder the action, 3 on 3 NHL Arcade will allow gamers to enjoy the sport without the having to worry about adhering to icing, checking and other cumbersome regulations. And, the all-new physics engine that was introduced in NHL 09 is back, but with one small adjustment – now each hit is specifically designed to be absolutely huge. Now gamers will be able to hit the opposition with such bone-crushing checks that his victim will literally be blasted clear over the boards and off the rink.
To me this sounds like it could be a lot of fun and for the relatively low price it could provide solid value. It will probably end up being the first sports game I'll download out of the Marketplace. I only wish the online play was a full 3 on 3 OTP style.
How many of you out there will consider purchasing 3 on 3 NHL Arcade? Leave your thoughts in the comments.