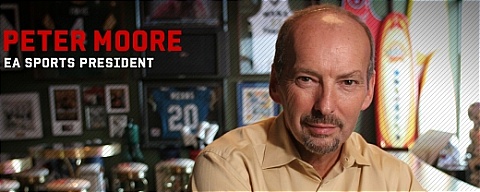 In his most recent blog posting EA Sports president Peter Moore discussed the Fight Night Round 4 reveal being made at the Spike Video Game Awards on Sunday. Reference is made to a "special guest" which seems likely to be Mike Tyson and a summer release date instead of previously stated spring. In addition they'll be showing off something "never before seen in a videogame".
I hope you'll all be watching the Spike VGAs live this Sunday, where I'll be joined by a special guest on stage to show the world premiere of Fight Night Round 4. Fight Night Round 3 remains one of the most critically and commercially successful games of this hardware generation, and I'll never forget when I saw the first concept video of the game back more than two years ago. On Sunday, you're going to see something never before seen in a videogame. And next summer, I'm confident you'll see a game that will build on the rich heritage of this great franchise.
The last time Moore made a statement as strong as that it had to do with NBA Live 09's 365 feature. Before it was announced he referred to it as "ground-breaking"…and that it was. So can EA deliver something never seen before with FNR4? And what do you think that could be? Leave your thoughts in the comments.